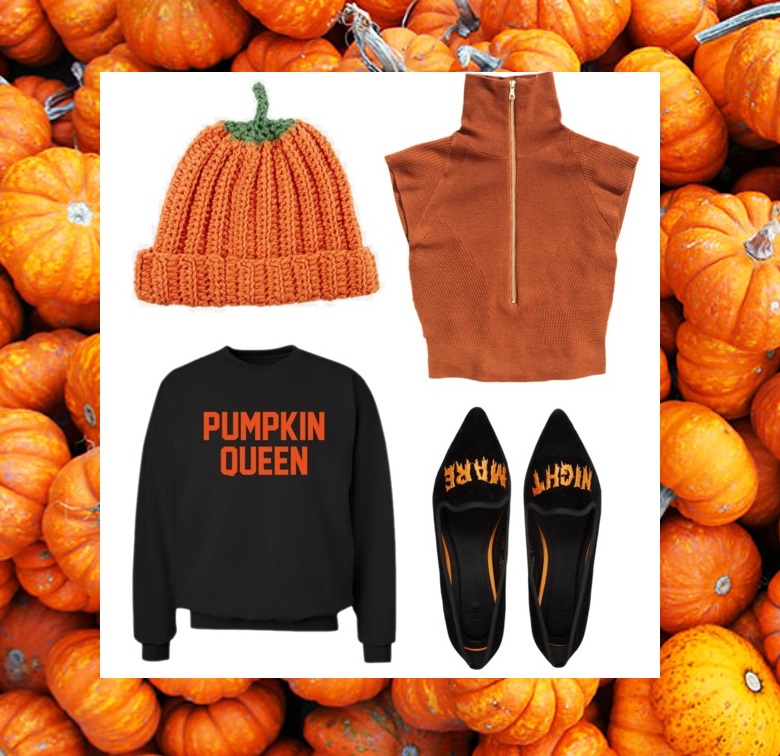 Asos Hat / H&M Turtleneck / Asos Sweater / Asos Flats
I
t´s this kind of season where I really need a color code! The time I start to love bright orange, lots of blacks & greys as well as typical autumnal shades. No season is like this. What we are not typically celebrating but I love anyways, is
Halloween
! Although I´m such a fraidy-cat when it comes to watching horror movies or visiting spooky attractions, I feel so amazed by this theme! I´m defintely no one that likes to be scared but I do like watching it from the back - know what I mean? It´s such a love & hate relationship with me & Halloween!
What I personally ever wanted to do - but never actually did - is going to a great Halloween themed party in one of our clubs. I feel like dressing up a little spooky, celebrating whatever you need to, could be really fun! We used to do these Halloween parties with sausage fingers & green slimy jelly when we were young. We dressed like witches, cats or whatever came to our minds - sometimes I really miss times like these where we only needed to care for costumes, homework & friends.
What I do to survive Halloween? I buy myself some cute little accessories such as halloween-ie Cupcake decor, a pumpkin hat & pumpkin spiced candles. Some little ritual has become the watching of Halloween Episodes of all my favorite series! I really love the PLL spooky episodes, (Spongebob Squarepants as ghost is too cute) & also all our favorite US series have those! Just type into Google...
Just one possibility to celebrate life (of the undeath truly...) before Christmas arrives!
----------------------------------------------------------------------------------------------------------------------------------------------------------------
J

etzt ist wieder die Zeit gekommen, in der ich nach bestimmten Farben suche! Klingt verrückt, aber im Herbst trage ich plötzlich viel mehr Schwarz & Grau, mag irgendwie sogar knalliges Orange und dass obwohl es mir gar nicht steht. Keine Jahreszeit ist so intensiv wie diese. Etwas das wir eigentlich in Deutschland gar nicht wirklich feiern, das ich aber trotzdem irgendwie richtig gut finde, ist Halloween! Obwohl ich bei Horrorfilmen zum größten Angsthasen mutiere und mir meist von der Vorschau schon die Lust vergeht, finde ich spooky Halloween irgendwie unheimlich faszinierend. Aber mehr aus dem Hintergrund heraus - wisst ihr was ich meine? Ich würde niemals in Spukhäuser gehen wollen. Eine Love & Hate Beziehung zwischen mir und diesem Halloween!
Was ich eigentlich wirklich schon immer tun wollte und es dann nie getan habe? Eine richtig gute Grusel-Kostümparty zu besuchen und mal so richtig in die Makeup-Trickkiste greifen. Früher haben wir mit Freunden diese typischen Würstchenfinger-Schleimwackelpudding-Partys veranstaltet, die ich immer unheimlich spannend fand! Wenn es draußen dunkel und neblig war, man endlich das Hexenkostüm nochmal auspacken durfte - hach.
Was ich heute mache um Halloween zu überleben? Ich gebe mich dem ganzen hin, aber meist ganz allein. Ich kaufe kleine Halloween Accessoires, die meinem Freund gar nicht auffallen: eine Kürbismütze, Pumpkin Spiced Duftkerzen, kleine Deko für meine Cupcakes - und dann mache ich es mir mit meinen Leckereien, meinem Kürbis im Bett gemütlich und schaue Halloween Episoden meiner Lieblingsserien. PLL kann ich da nur empfehlen & Spongebob als Geist ist schon ziemlich süß!
Ich nehme das einfach mal als Anlass um das Leben zu feiern, bis dann bald Weihnachten endlich da ist...