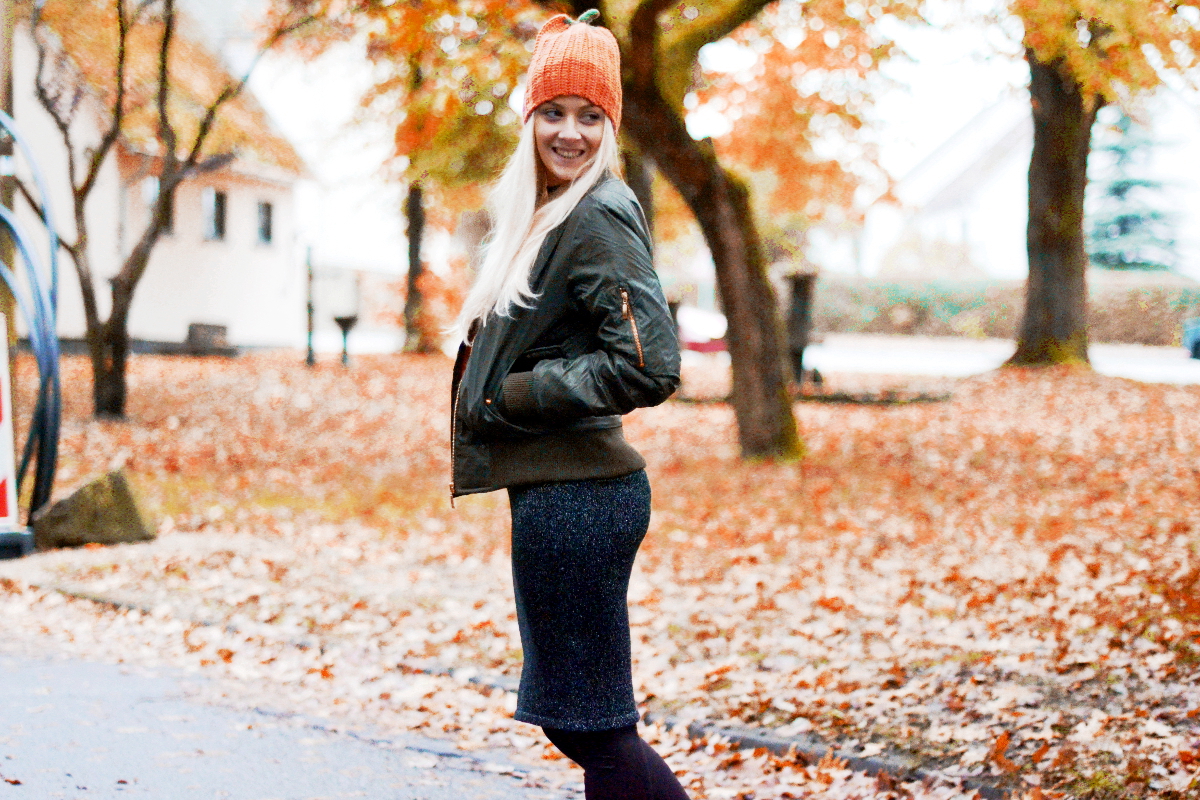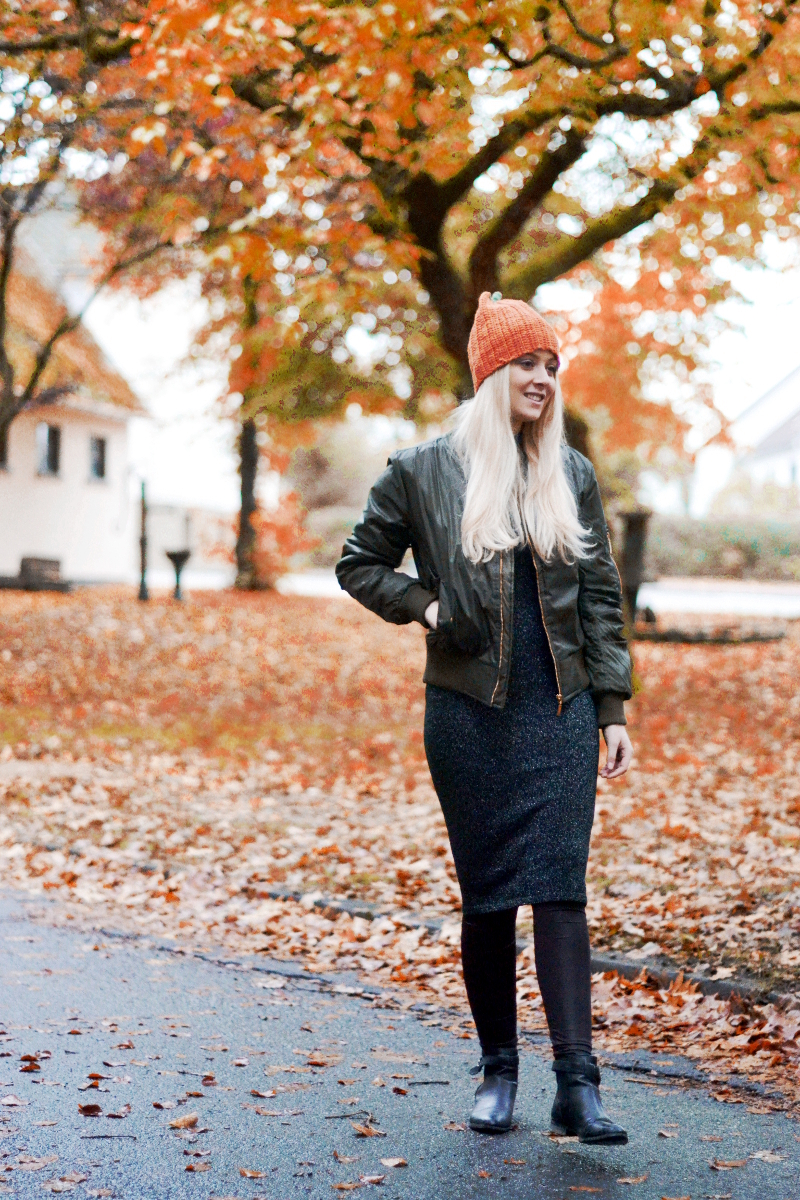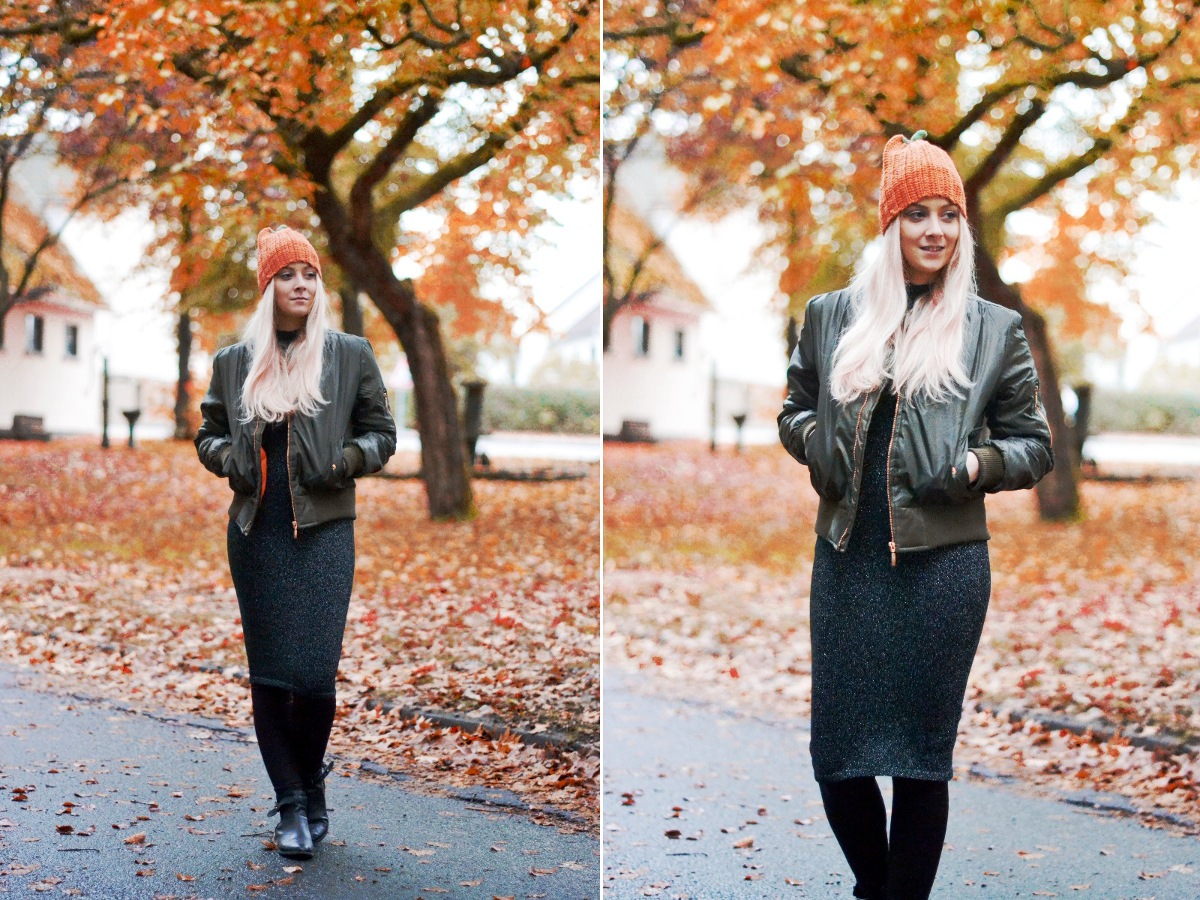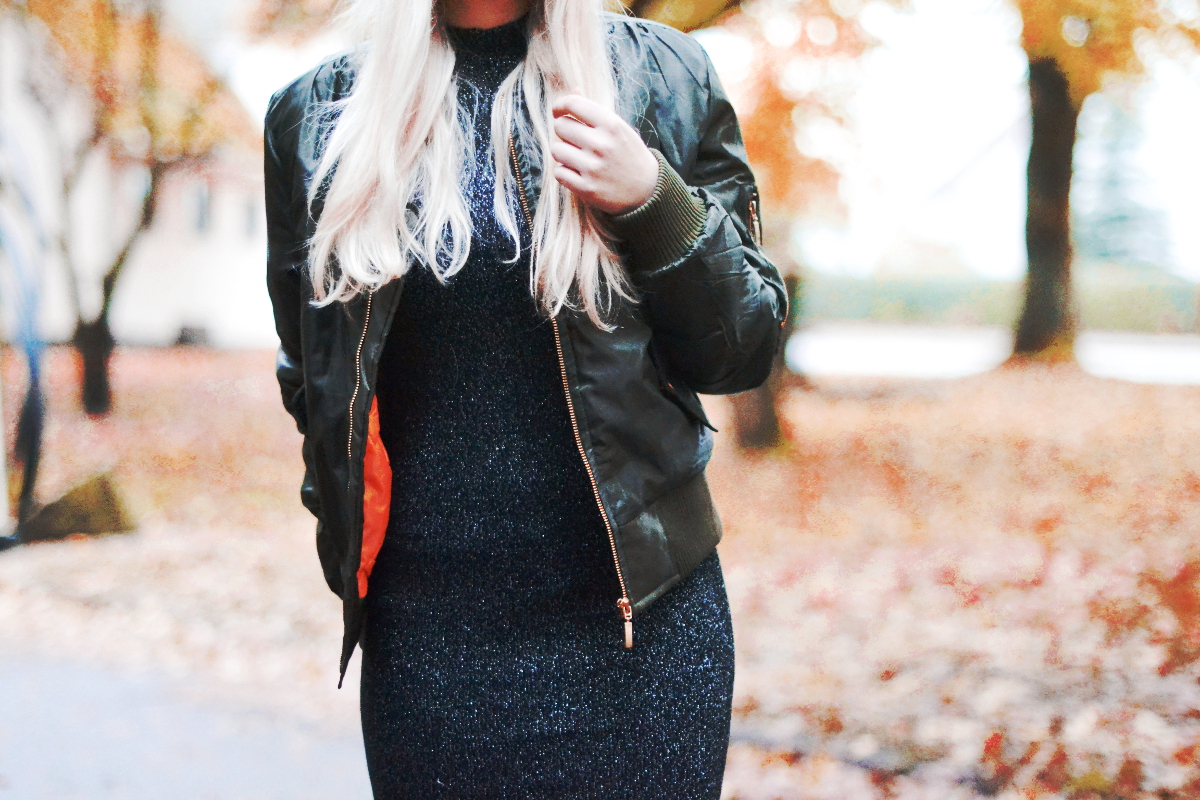 WearAll Bomber Jacket / Forever 21 Dress / H&M (P)leather Pants / H&M Chelsea Boots / Asos Hat
H
ello autumn people! I´m sitting inside my cozy home office, heating on, covered with a nice blanket. The room is filled with pumpkin spice since I´ve lit my new candle for the first time! It´s so cold outside that I only left the house to take some photos of my newest fall uniform: a bomber jacket, the glittery midi dress with turtleneck, some (p)leather pants, chelsea boots & my pumpkin hat crush! Today I´m wearing three trends in one & by the way isn´t it amazing outside?!
DRESSES OVER PANTS
Recent runway shows covered all one trend for fall: wearing dresses over pants! And to be honest, I didn´t really know what to think about it. While I was sipping my hot chocolate this morning, I thought about just trying it because it felt too cold to wear the dress just with tights. And here we are! It was really cozy! What do you think?
BOMBER JACKETS
A trend that comes & goes: Bomber Jackets! My first one ever (since I was quite scared to look silly in it) is from Wearall, a very favorable online shop from the UK! I love that it is so versatile, so unique & warm - and to be honest it´s my favorite jacket in the moment...
TURTLE NECKS
You can´t really see it - because my hair is so wild - but I´m wearing a turtleneck dress! It´s super cozy because of the fact that you don´t need any scarf to come with it! The best to dress in an easy way! Since it is so sparkly, I´m planning to style it for christmas as well, what do you think?
----------------------------------------------------------------------------------------------------------------------------------------------------------------
H

allo ihr Herbstmenschen! Ich verbringe den Morgen heute an meinem Schreibtisch, denn ich empfinde es als viel zu kalt um mich auch nur annähernd nach draußen zu bewegen. Ich habe die Heizung ganz nach oben gedreht, schaue ab und an nach draußen, ins kalte Grau. Ich habe mich in eine warme Decke gehüllt, der Raum duftet nach meiner neuen Kürbiskerze & bis jetzt war ich nur ein paar Minuten draußen um euch dieses herbstliche Outfit aufzunehmen. Meine Herbstuniform so zu sagen. Ich trage heute drei Trends in einem & so ganz nebenbei, ist es nicht unheimlich schön draußen!?
KLEIDER ÜBER HOSEN TRAGEN
Wer die herbstlichen Runways verfolgt hat weiß, dass der neuste Trend genau dieser zu sein scheint: Kleider über Hosen! Ich war mir erst nicht wirklich sicher, ob ich das alltagstauglich finde, habe es dann aber einfach mal probiert. Als ich früher am Morgen an meinem Kakao nippte, überkam mich eine Welle des Mutes & irgendwie konnte ich mich für die Fotos nicht von meiner Lederhose trennen - ich muss zugeben schön warm war es!
BOMBER JACKE
Kommt mal & geht auch wieder: Die Bomber Jacke! Meine erste überhaupt habe ich bei Wearall gekauft, einem Onlineshop aus der UK, weil ich überhaupt nicht sicher war ob mir so ein Teil überhaupt steht. Ich finde sie aber wirklich richtig Bombe (Achtung: Wortwitz!...) und dazu ist sie unheimlich gut zu kombinieren und hält ziemlich warm. Irgendwie meine Lieblingsjacke momentan...
ROLLKRAGEN
Das englische Wort finde ich irgendwie besser, denn "Rollkragen" klingt wie "Rollbraten" und da weiß ich dann nicht ganz, ob ich das mag. Trotzdem einer meiner liebsten Trends, weil ich keinen kratzigen Schal brauche, um mich warm zu halten. Weil mein Kleid auch noch zusätzlich Glitzer beinhaltet ist es perfekt für mich & sicher seht ihr es nochmal zu Weihnachten! Was meint ihr?