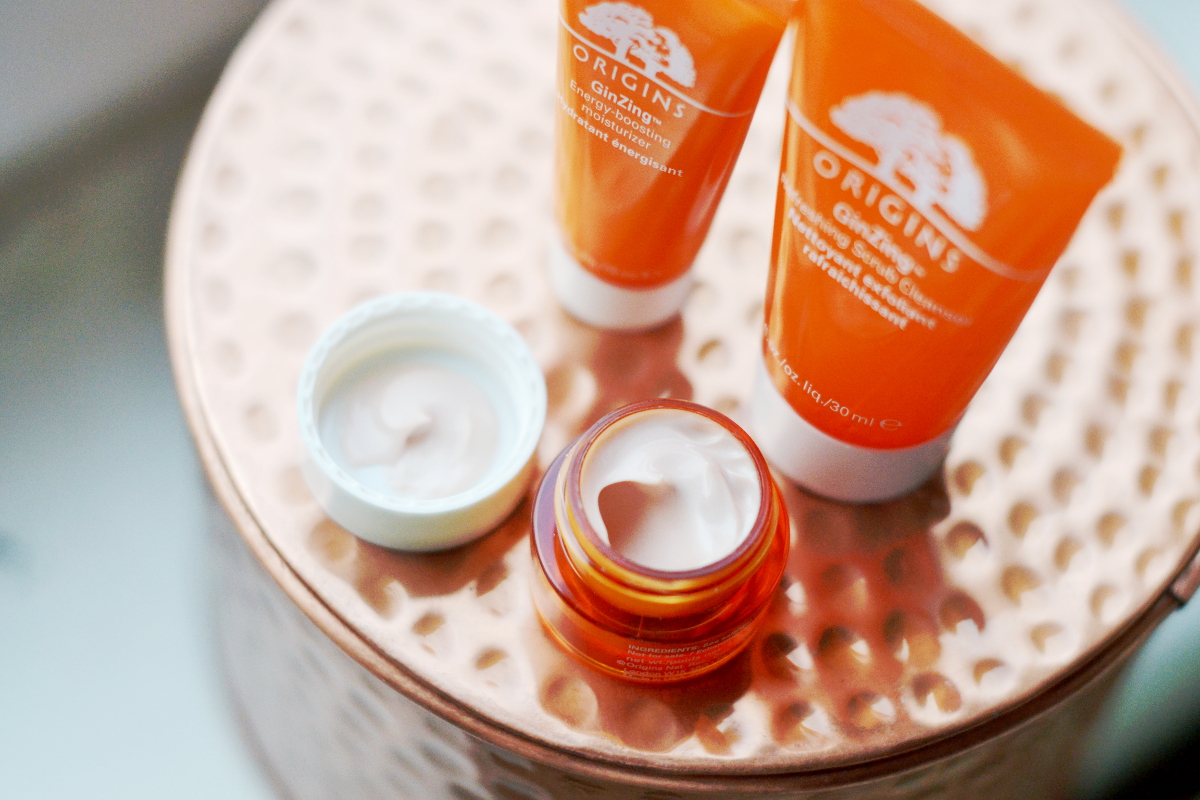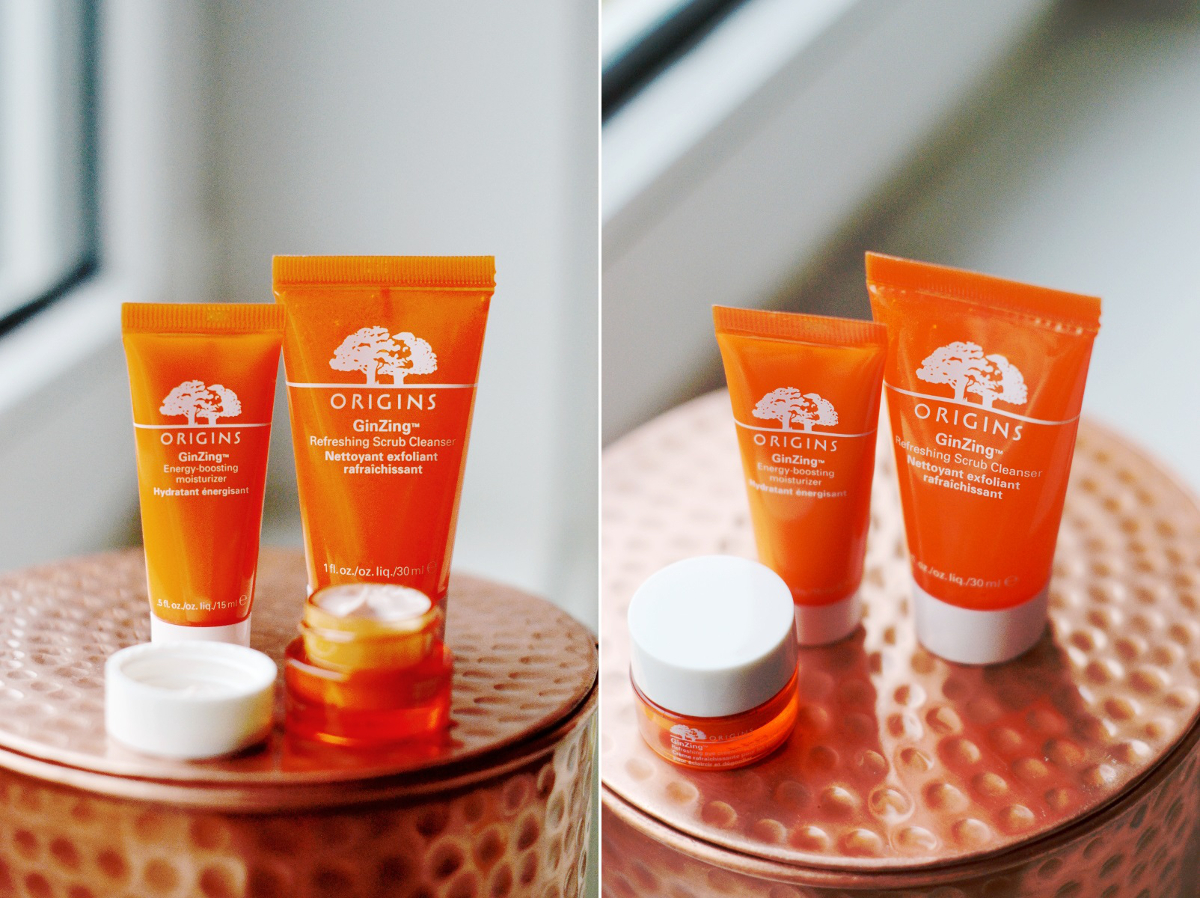 Origins "GinZing" Refreshing Scrub Cleanser, Energy-boosting Moisturizer, Refreshing eye cream to brighten & depuff
D

o you have some special treatment for your soul? Anything you have recently found & that really makes you feel good? Well, for me that´s skin care recently! Since I was never really into skin care just because my skin is so sensitive (read all about it here!), I never used to shop for fancy products like these.
Some weeks ago I was somehow fascinated by this Origins series because I had read a lot good stuff about this actually. I just thought I was the only one who hadn´t tried out anything Origins´ yet & that to be honest is always a good argument to try something new! I ordered on Douglas because there is this amazing deal of three products for €15 which is an absolute bargain for Origins!!
Firstly I was so excited to try all the products in their kind of testing sizes but I was way more interested in their smell since I hate sweet scents on skin care products. But these smell absolutely fresh like oranges & the packaging looks so autumnal - pumpkin theme going on everywhere!
I´ve got myself a starter set of the "GinZing" series which is made to refresh your skin in the morning! Perfect for couch potatoes like us!! This series contains the Refreshing Scrub Cleanser that is perfect if you forgot to remove your makeup in the evening or before the shower! The Energy-boosting moisturizer keep your skin hydrated & I feel really fresh and motivated after using this! What I like most is the eye treatment "to brighten & depuff" that really helps me to look fitter & healthier! It´s such a good alternative to my Clinique one!
I feel like I really needed to recommend you this line if you are having complicated skin like me! Keep glowing!
----------------------------------------------------------------------------------------------------------------------------------------------------------------
H

abt ihr auch bestimmte Verfahren, die euch den Tag versüßen? Irgendetwas das ihr kürzlich erst für euch entdeckt habt und dennoch schon nicht mehr fortdenken könnt? So banal das auch klingen mag, aber für mich ist das die Gesichtpflege geworden! Etwas über das ich früher nie wirklich nachgedacht habe, mit dem ich wirklich im Streit lag, weil ich unheimlich empfindliche Haut habe. (Wenn ihr mehr dazu lesen wollt, dann gerne hier!) Und so kam es, dass ich auch nie nach tollen Pflegeprodukten geschaut habe.
Irgendwie hat mich dann vor ein paar Wochen die "GinZing" Serie von Origins so fasziniert, weil jeder darüber sprach und schrieb, dass ich einen Selbstversuch wagen wollte - obwohl ich da noch das Gefühl hatte, dass ich wieder ins Leere damit laufen würde. Aber wer nicht wagt, der nicht gewinnt, richtig?! Bestellt habe ich dann über Douglas, hier gibt es nämlich kleine Startersets mit kleineren Ausgaben der Produkte für knapp €15 á 3 Teile!
Besonders gespannt war ich natürlich auf die einzelnen Wirkstoffe, ob ich die Textur überhaupt vertrage oder ob die Haut wieder so furchtbar zu jucken beginnt - nebenbei mochte ich natürlich auch die herbstliche kürbisfarbene Verpackung - Ich Konsumopfer!
Im "GinZing" Starterset enthalten waren dann: Der Refreshing Scrub Cleanser, der perfekt für mich zu sein scheint! Ich benutze ihn am liebsten nach dem Duschen - ich dusche nämlich meist abends, um Makeup und Schmutz des Tages zu entfernen - oder morgens nach dem Aufstehen, um Rückstande zu entfernen. Der Energy-boosting Moisturizer erfrischt die Haut und ich finde, dass man wirklich spürt wie die Frische in die Gesichtshaut einzieht. Rötungen habe ich bis jetzt noch keine bekommen! Mein absoluter Liebling ist aber auf jeden Fall die Augencreme "to brighten and depuff", die zu meinem morgendlichen Retter geworden ist! Die hält mit meiner Clinique Creme in jedem Fall mit und zaubert mir ein richtiges Leuchten in die Augen!
Irgendwie hatte ich absolut das Gefühl, dass diese Empfehlung eventuell dem ein oder anderen weiterhelfen kann! Ich weiß wie schwer das Finden der richtigen Produkte sein kann, aber für mich scheint es endlich zu passen! Happy Autumn!
the GinZing Collection...