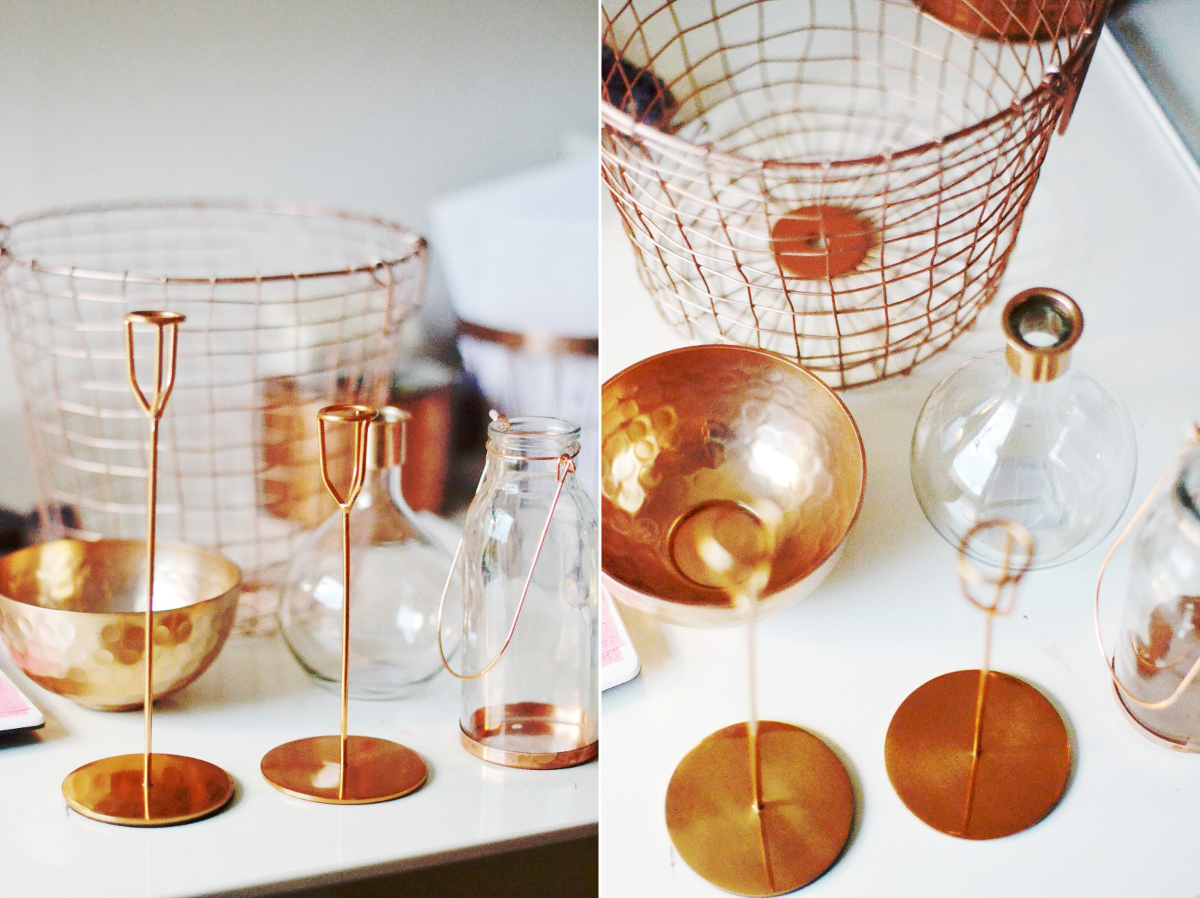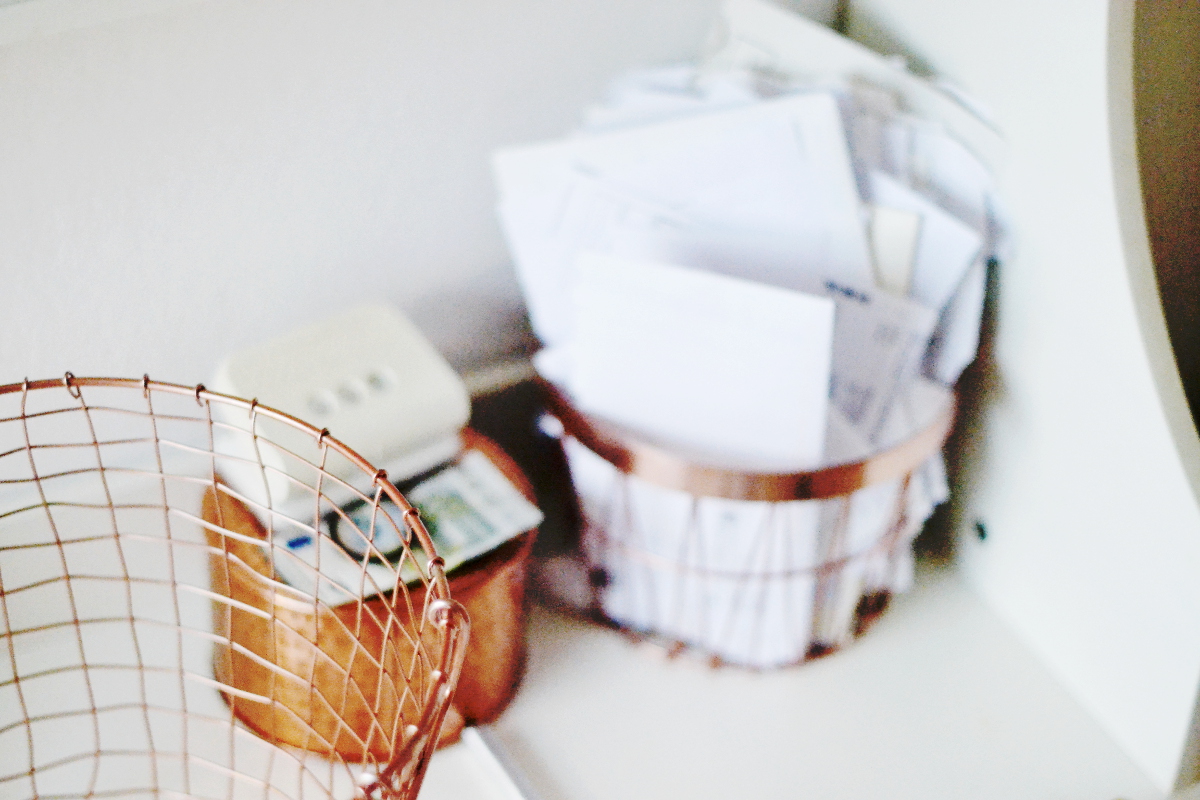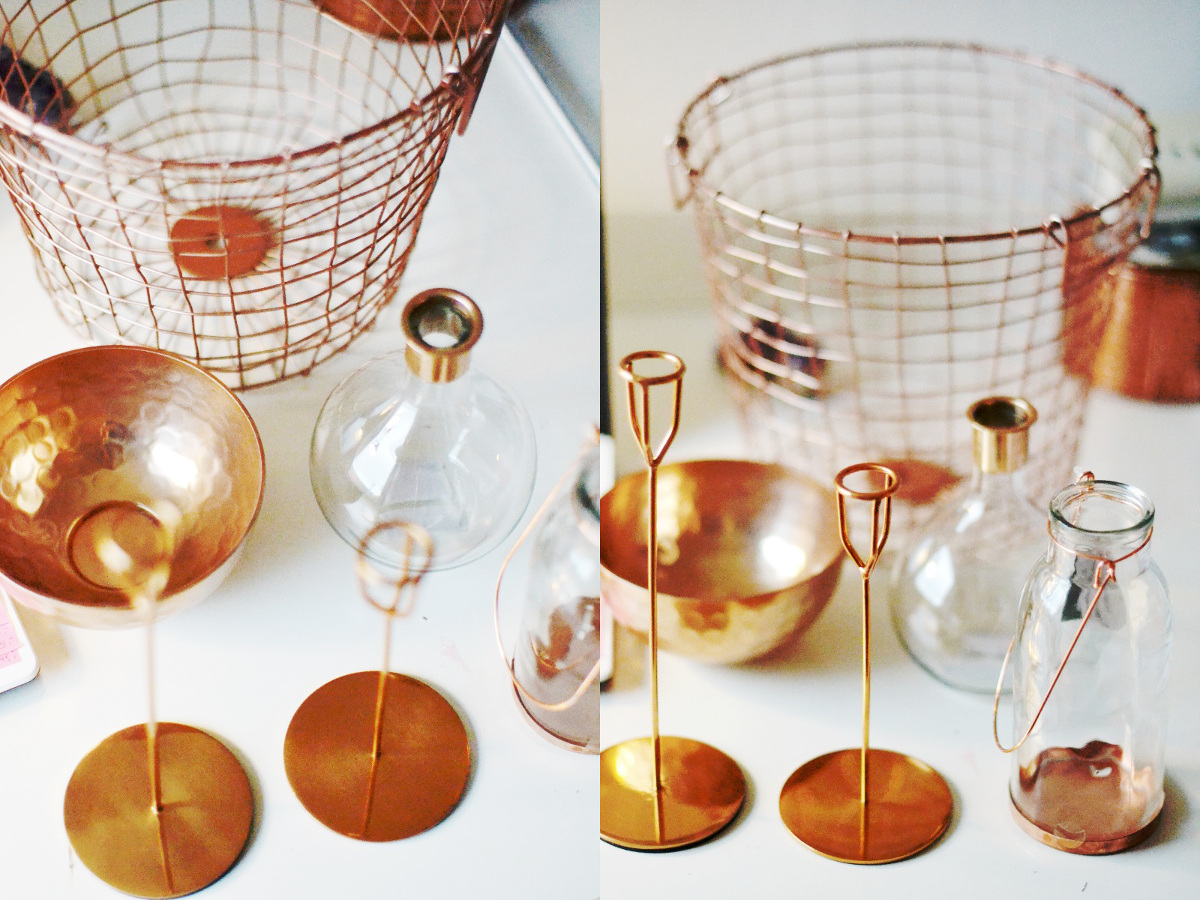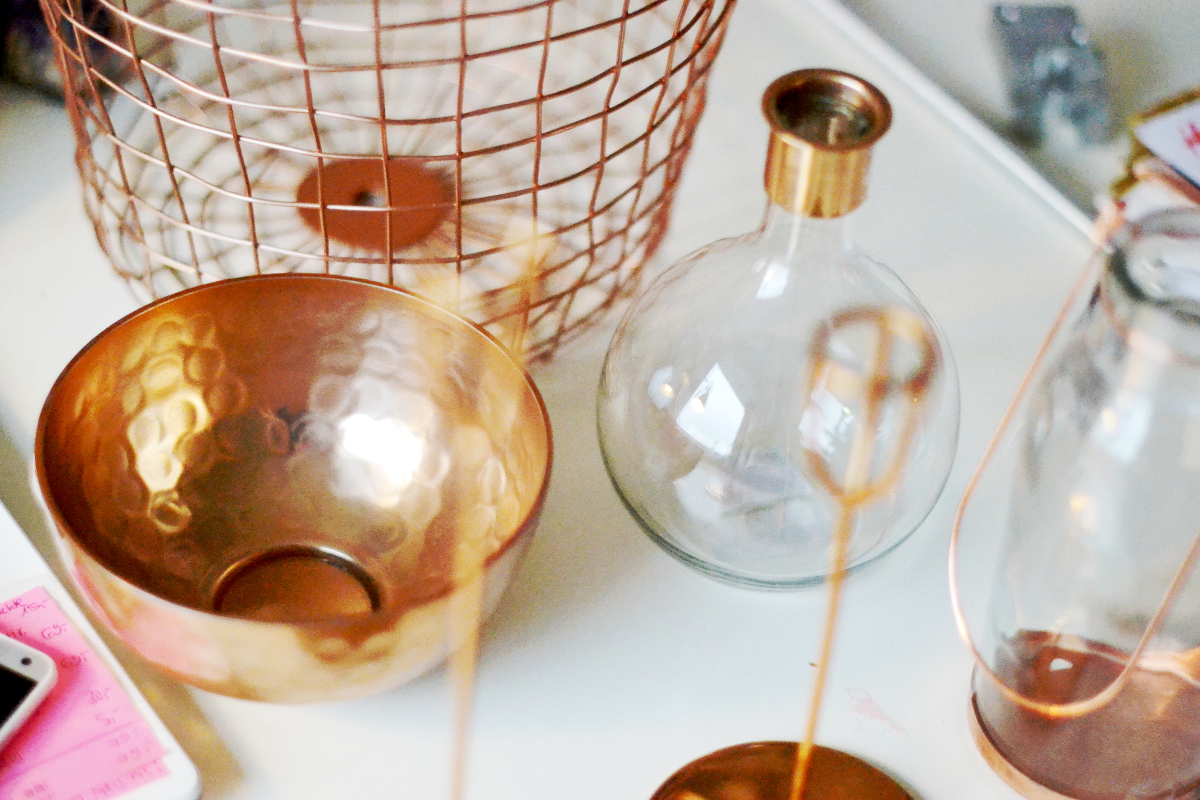 H&M Home Copper bowl, wire baskets, round vase, candlestick holder / Depot bottle vase, round tin
F

or some weeks now, I´m obsessed with everything copper! It´s some kind of magic attractiveness between us! When I was redecorating my bedroom & homeoffice (I know you have heard this term way too often in the last weeks...) I thought about some decor which I would even love in some months! Copper is the best alternative to gold or silver because I can never decide which I do like more..
My first visit was at Ikea when I found this star light from the christmas collection that I will use all year round to cozy-up my rooms! They´ve also had some cute hangers in pastel colors, copper, silver & gold aswell which I also got!
At our local Depot shop I found a lot of cute things in the Sale! Of course, some copper things as well! A bottle vase with copper ornamentation, as well as a cute round tin for my office! A huge package came from H&M Home where I found two candle-sticks, a big wired basket, a smaller basket, a little bowl & a cute vase aswell! I´m sooo in love!!!
---------------------------------------------------------------------------------------------------------------------------------------------------------------
S

eit einigen Wochen bin ich im Kupfer-Rausch! Da ist so eine Anziehungskraft, die mich immer wieder zu diesen rötlich glänzenden Metallen führt & als es dann darum ging neue Deko für die (fast) fertigen Räume zu kaufen, war eins klar: Kupfer Overload! Weil ich mich nie zwischen Silber oder Gold entscheiden konnte, mixe ich das Ganze eben und in kupferfarbenen Accessoires finde ich immer eine gute Alternative!
Mein erster Besuch in Sachen Kupfer-Mission war bei Ikea, denn da hatte ich dieses Sternenlicht gesehen, das eigentlich bereits in die Weihnachtszeit gehört. Aber ich denke ich werde es das ganze Jahr über stehen lassen - Sterne gehen immer! Dazu habe ich mir noch einige hängende Dekoartikel geholt, die es in Pastellfarben, Silber, Gold und eben Kupfer gab!
Bei Depot durften einige Teile mit, weil mal wieder Sale war! Und klar ist, dass auch hier Kupfer unter den üblichen Verdächtigen zu finden war! Eine Flasche mit kupfrigem Rand & eine tolle runde Dose für meinen Schreibtischkram. Das meiste gab es jedoch bei H&M Home - neben zwei kleinen Kerzenleuchtern habe ich einen großen kupfernen Drahtkorb, einen kleinen Korb, eine Vase und eine Dekoschale gefunden. Meine Sucht ist damit erstmal befriedigt & ich bin verliebt in jedes einzelne Teil!
shop copper!!!