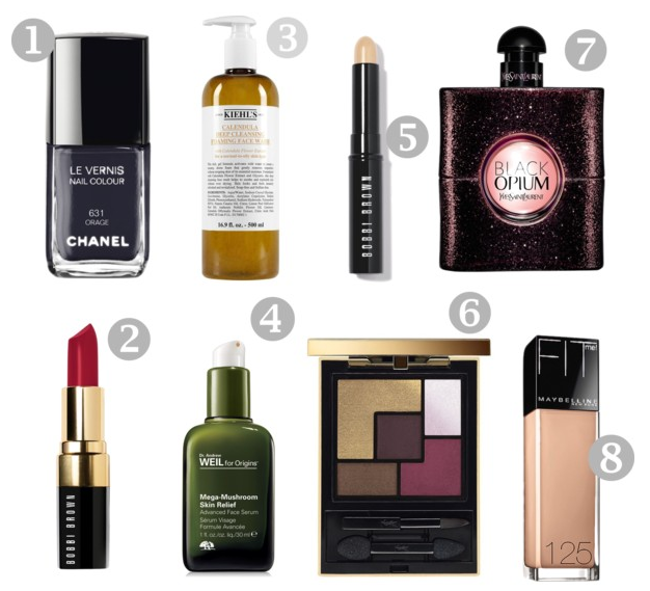 1. Chanel Nailpolish ´Le Vernis´ No. 631 Orage / 2. Bobbi Brown LE Lip Colour ´Berry Punch´ / 3. Kiehl´s Cleansing Foaming Wash / 4.Origins Mega Mushroom Skin Relief Advanced Face Serum / 5. Bobbi Brown Face Touch Up Stick / 6. YSL Couture Palette Collector Metal Clash / 7. YSL Black Opium EdT / 8. Maybelline Fit Me Foundation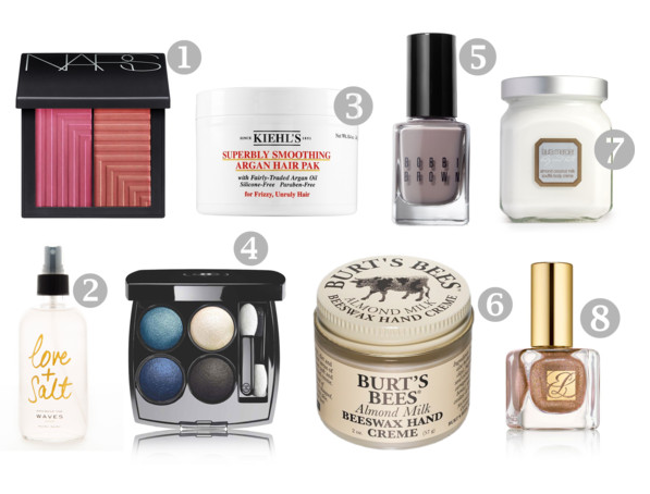 1.NARS Dual Intensity Blush / 2. Love + Salt Beach Hair & Body Mist / 3. Kiehl´s ´Superbly Smoothing´ Argan Hair Pak / 4. Chanel Les 4 Ombres ´Blue Rhythm´/ 5. Bobbi Brown Nailpolish ´Smokey Topaz´ / 6. Burts Bees Handcream Almond Milk / 7. Laura Mercier Almond Coconut Milk Souffle Body Creme / 8. Estee Lauder Nailpolish ´Nude Pearl´
I

t´s been a while since I showed my last beauty wishes (actually that was in December last year when I was doing my christmas posts!). So I thought about bringing a fresh beautiish vibe to the blog since I´m such an addict! Buying beauty related products is even more exciting for me than buying clothing items or accessoires because I´m always on a hunt to find myself some nice treatment!
If you are shopping with me, never ever in your life let me go into a perfume shop or a drugstore! It´s simply not possible to get me out of here under one hour of smelling & trying. Online beauty shopping is even more exciting which makes it hard for me to decide without actually smelling or trying. But that´s the sneaky reason I tend to even need longer to shop online! My early fall beauty wishlist contains a lot of caring things such as cleansers, oils or hair packs. But I also love myself some good decorative cosmetics besides good brands! Some late summer lovers like salt texture spray or some blue shades for the eyes, make me feel even more protected to survive the cold days!
That´s mine, what´s on yours?
---------------------------------------------------------------------------------------------------------------------------------------------------------------