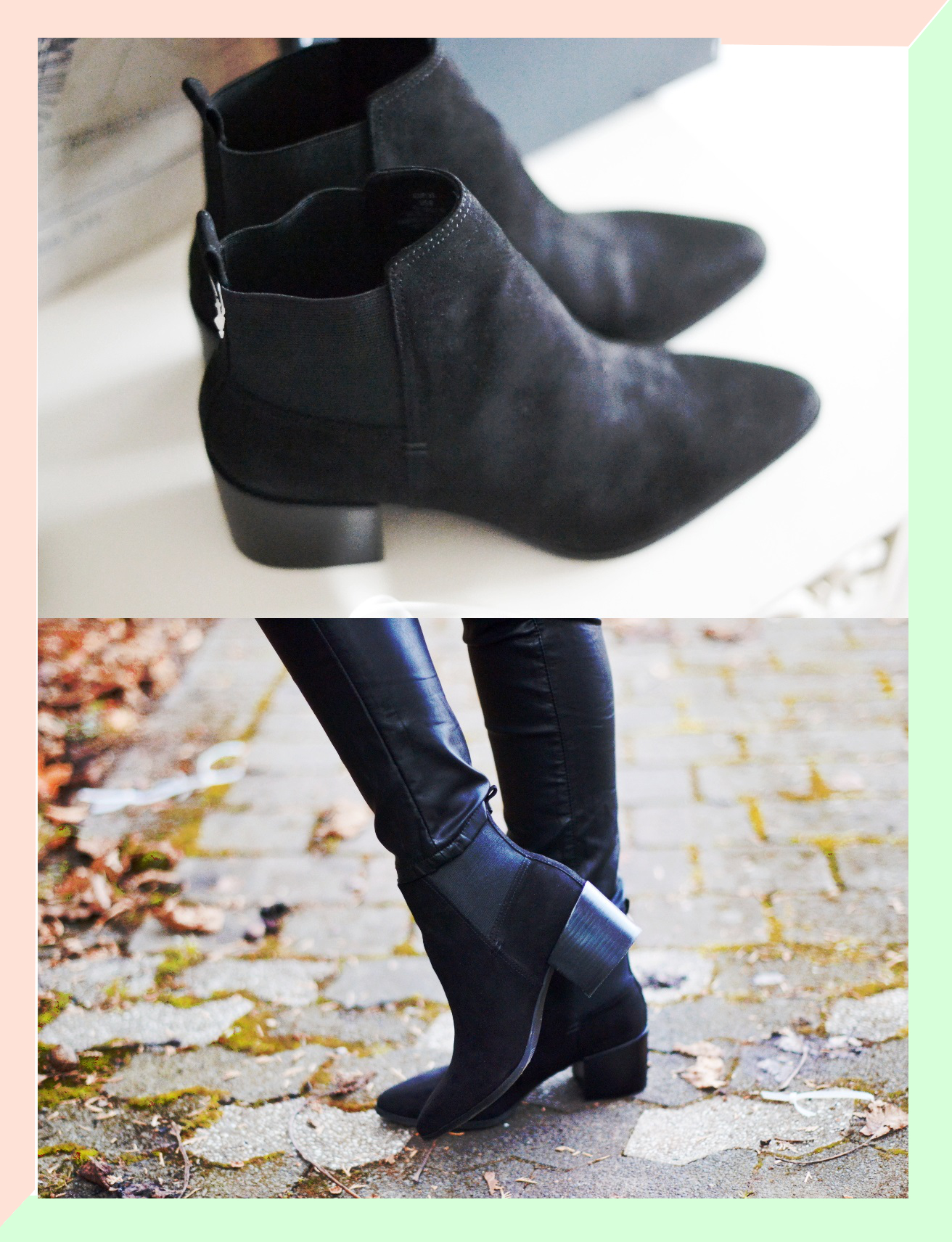 H&M Ankle Boots
D
o you know the feeling of craving for something you really can´t have? In my case, this was totally the case during the last weeks! After buying the really expensive version of the Acne Canada scarf, I wasn´t able to get my hands on another Acne item, of course! What I was looking for so badly? -
The Acne Jensen Boots!
A perfect, expensive, version of a black pointed ankle bootie! And of course, I cannot afford another 450€, yet!
For some reason I couldn´t get them out of my mind - then I found a perfect (slightly cheaper) pair at H&M, my lifetime saver of all time! It´s pointed, black & made of suede leather (kind of)! Aka the perfect boots for my winter looks! What do you think?
----------------------------------------------------------------------------------------------------------------------------------------------------------------
K

ennt ihr das Gefühl nach etwas greifen zu wollen, das ihr ganz sicher nicht haben könnt?! Sei es ein Mensch, eure erste große Verliebtheit, ein teures Designstück oder den Schokokuchen der verstorbenen Oma - völlig unterschiedliche, nicht miteinander zu vergleichende Beispiele, aber generell laufen sie auf ein hinaus: Trauer. In welcher Form auch immer. Und sicher möchte ich einen Verlust nicht mit dem Nicht-Kaufen-Können eines Schuhes vergleichen, aber wahrscheinlich wird es so einfach deutlicher. Das Teil, das mir jetzt seit Wochen nicht mehr aus dem Kopf geht, sind die Acne Jensen Boots! Eine perfekte, viel zu teure Version eines Ankle Boots! Aber natürlich kann ich nach meinem Canada Schal keine weiteren 450€ ausgeben - nicht mal im Traum fiele mir das ein!
Meine super süße Alternative des bequemen Ankle Booties, habe ich bei H&M gefunden, meinem Retter in schweren Zeiten! Mal wieder führt der Schwede eine fast genaue Rekosntruktion des It-Schuhs und dabei ist er doch noch ganz individuell! Ich liebe die spitze Form, den Wildlederlook und die Tatsache, dass er schwarz ist & alle meine Winterlooks ergänzen kann! Eine wundervolle Investition, meint ihr nicht?!