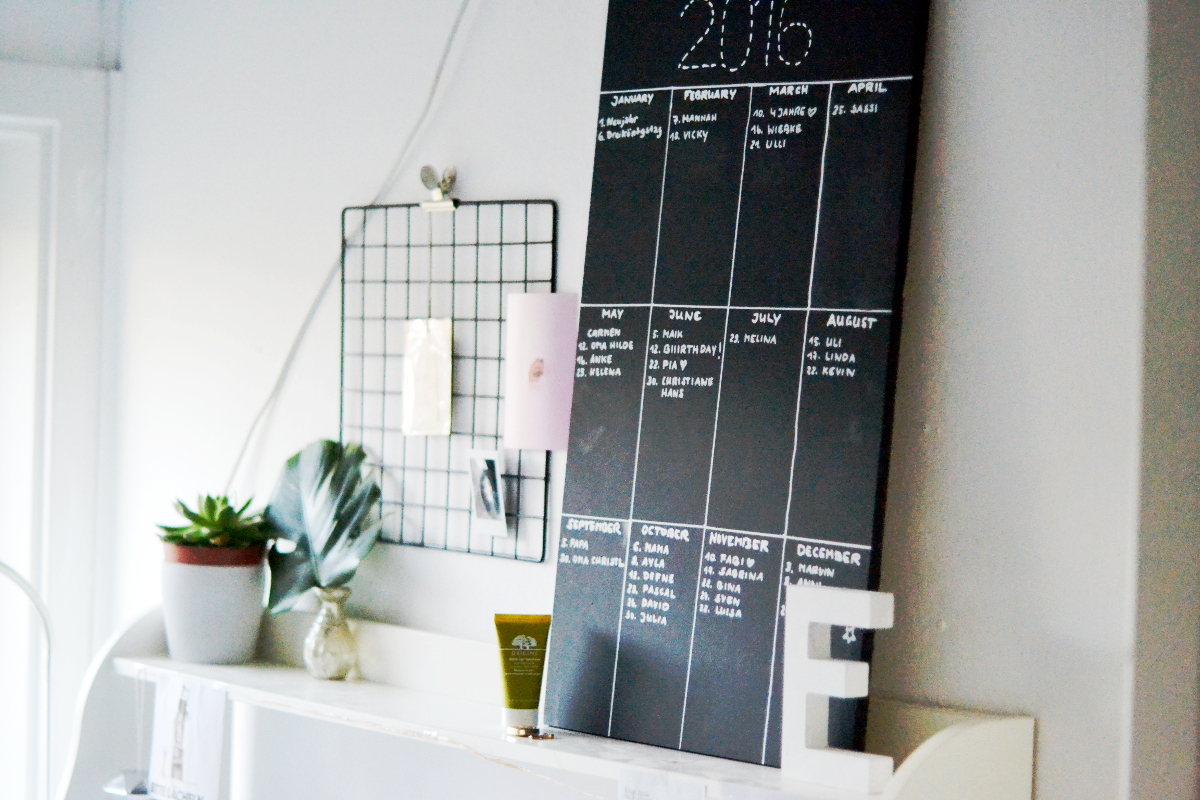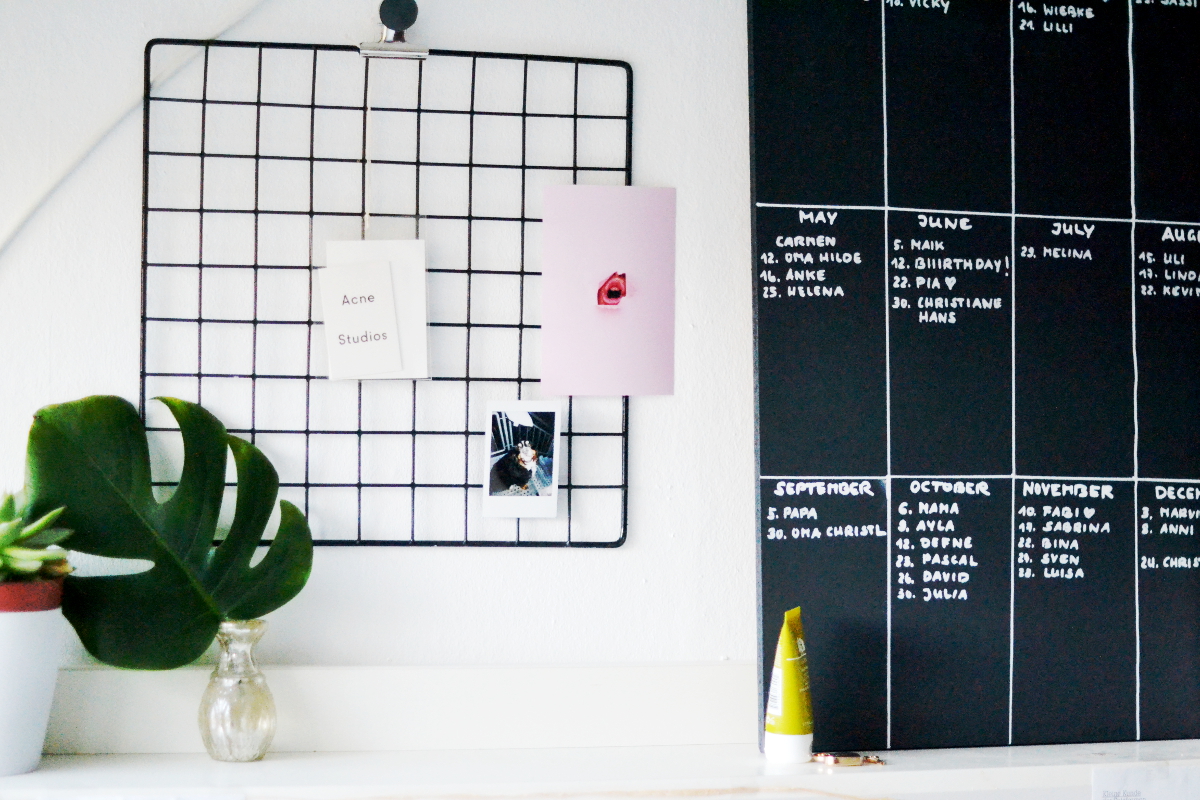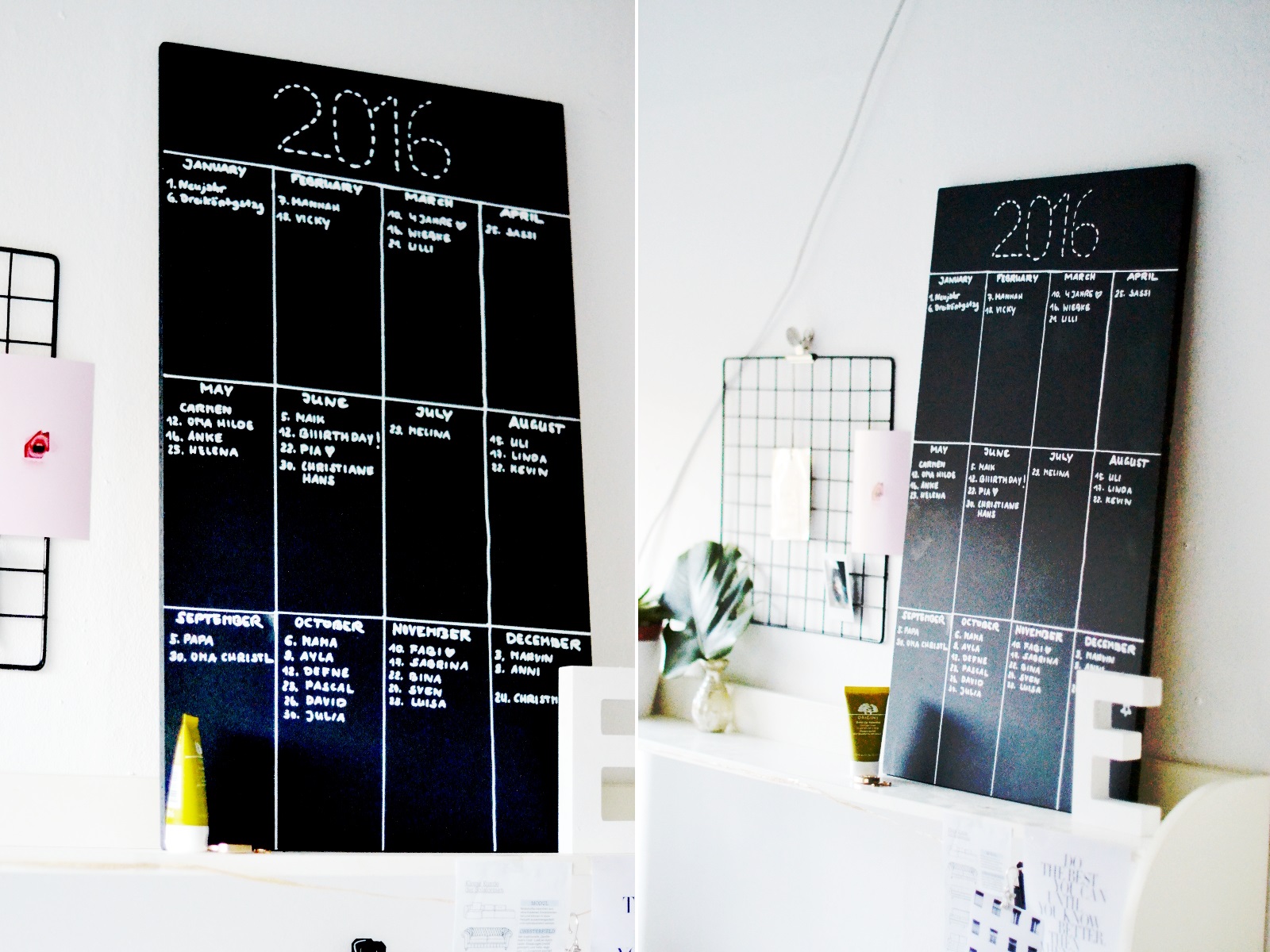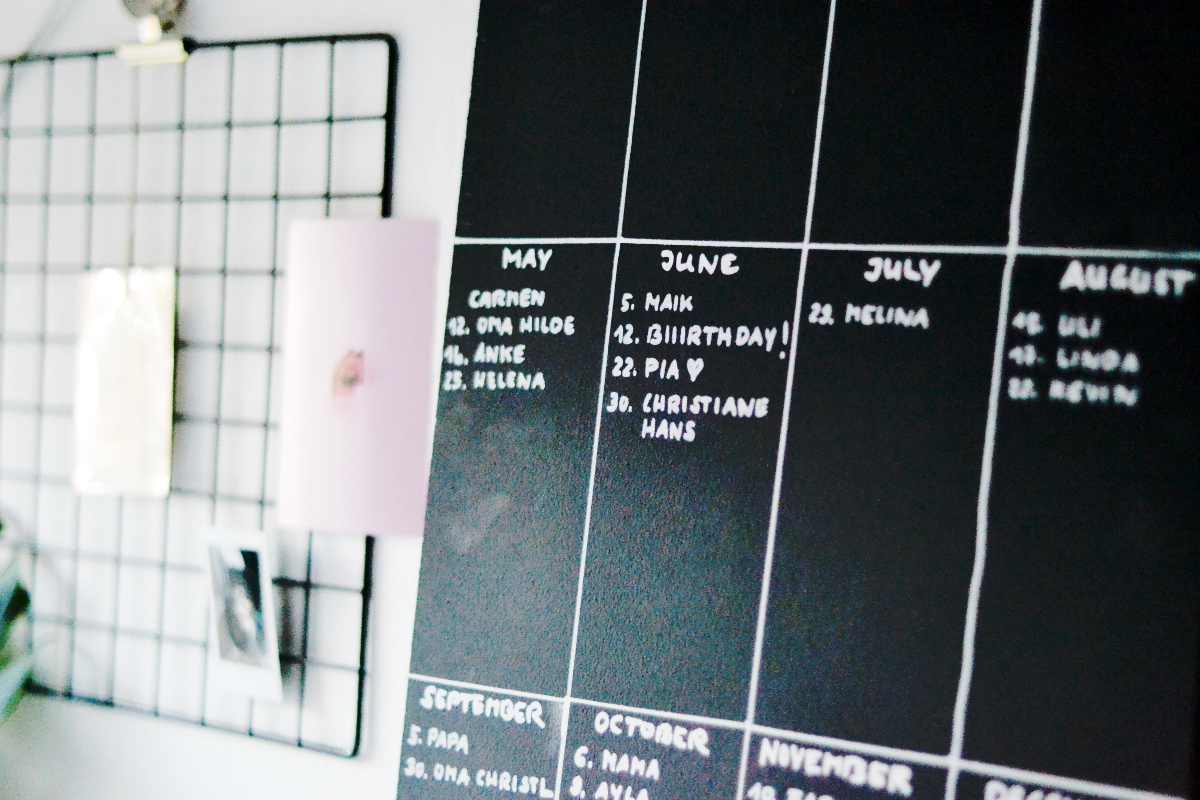 T

he middle of the month is here & N
ovember is ready to be celebrated! Which means only 36 days till christmas! I will try my very best to end this crazy year in honor. How about you? One of my newest DIY ideas happenend because I practically wasn´t able to afford the design calendar of my dreams - which happens a lot recently since I tend to reach for the expensive scandinavian designers... - so I thought about any chance to create one on my own! What happened next, was quite easy but with huge effect, don´t you think?!
Please welcome my newest DIY chalkboard calendar which helps me to remember birthdays, events & important dates! Great, isn´t it?! And it´s so easy...
YOU´LL NEED: A wooden board, chalk board paint (via Amazon), a white chalk pen, your creativity! Just paint your board with your black chalk board paint & let it dry for 24 hours - then start writing & sketching! Happy 2016!
----------------------------------------------------------------------------------------------------------------------------------------------------------------------
D

ie Mitte des Novembers haben wir nun erreicht & damit bin ich bereit für Weihnachten! Es sind nur noch 36 Tage bis zum großen Fest und mache mir bereits Gedanken über Geschenke, Bastelideen, Rezepte und Outfits! Einige Looks haben wir schon im Kasten & ein (für mich) richtig großes Projekt steht dabei auch noch an! Ich freue mich unheimlich! Heute habe ich aber erstmal eines meiner neusten DIY´s für euch, denn ich bin momentan wieder richtig kreativ. Diese Idee für einen wiederverwendbaren Kalender hatte ich, weil ich mir den Kalender meiner Träume von einem skandinavischen Designer leider nicht leisten konnte. Und was macht Frau da? Sie überlegt wie sie einen cleanen Look zaubern kann ohne hunderte Euros dafür zu lassen!
Et voilá: Heißt meinen neuen Tafelkalender für Geburtstage, wichtige Termine und Dates willkommen! So vergesse ich sicher so schnell nichts mehr & das Beste dabei ist, dass ich Dinge ganz leicht ausstreichen kann & ihn auch in den nächsten Jahren wieder anpassen kann. Tafelfarbe bedeutet nämlich, dass ich mit Kreide schreiben kann & das ganze dann, wie in der Schule, wieder weg wischen kann! Cool, oder?! Ich fand meine Idee grandios und der Look gefällt mir unheimlich gut!
WAS IHR BRAUCHT: eine Holzplatte in der Größe eurer Wahl, einen Pinsel, Tafellack (über Amazon erhältlich) & Kreidestifte. Ihr streicht den Lack auf das Brett und lasst das Ganze für mindestens 24 Stunden trocknen. Danach dürft ihr kreativ werden! Übrigens auch ein tolles Weihnachtsgeschenk für eure Lieben!