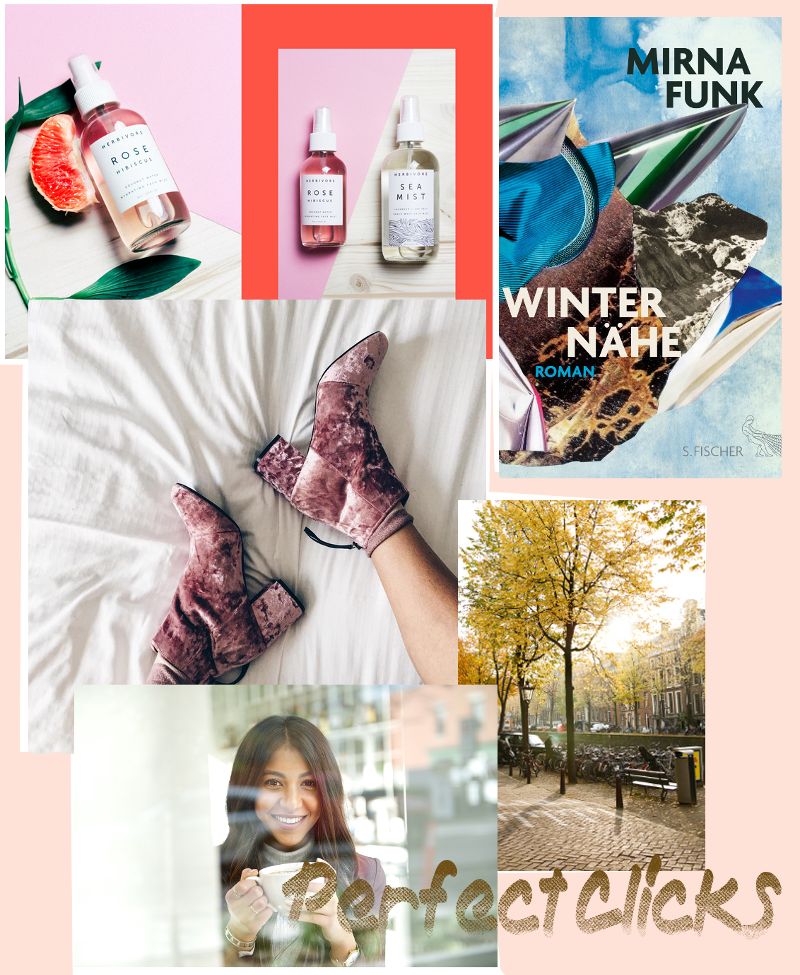 #1 - Dank Agnes möchte ich jetzt die Produkte von
Herbivore Botanicals
probieren & zwar alle! Mein neuer Blog-Crush ist nämlich das "nice to have mag", das so ziemlich alle Kategorien beinhaltet, die mir so am Herzen liegen & sogar einen Einblick in (zukünftige, irgendwannmal-) Mamiwelt gibt!
Diese Produkte
sind so schön dargestellt, so liebevoll & kreativ fotografiert, dass mir das Herz aufgeht! Designliebe hoch 10000!!!
#2 - Siska von Klischee bescherte mir diese Woche einige
neue Lesetipps
& besonders "Winternähe" von Mirna Funk hat es mir irgendwie besonders angetan! Ich liebe solche Romane - hat ihn schon jemand gelesen?
#3 -
Linda Tol
ist toll (Achtung: seeehr lustiger Wortwitz...)!
Diese Treter
fand ich einfach grandios, denn Rosa, Samt, Chelsea Boot & ausgefallen! Nicht jedermanns Geschmack, aber genau das ist doch schließlich der Reiz!
#4 - Amsterdam ist defintiv nochmal eine Reise wert! Meine Eltern brachten letztes Wochenende tolle Impressionen mit nach Hause & da passte der Beitrag von Chapter Friday ganz toll! Tolle Märkte, Secondhand Shops und grandiose Museen -
Yara´s Tipps
haben mir bei meinem ersten Amsterdam Besuch schon die Tage versüßt, lohnt sich: What do in Amsterdam in Fall!!
#5 - Kayla ist die Queen! Viele wissen gar nicht, dass sie in Berlin lebt - vielleicht erwartet man solchen Stil gar nicht unbedingt in Deutschland. Jedenfalls weiß ich jetzt endlich wie ich
farbige Anzugkombis
am besten tragen kann - im Alltag, lässig und vor allem sympathisch damit wirke. Und irgendwie wäre ich auch gerne so exotisch wie Kayla...