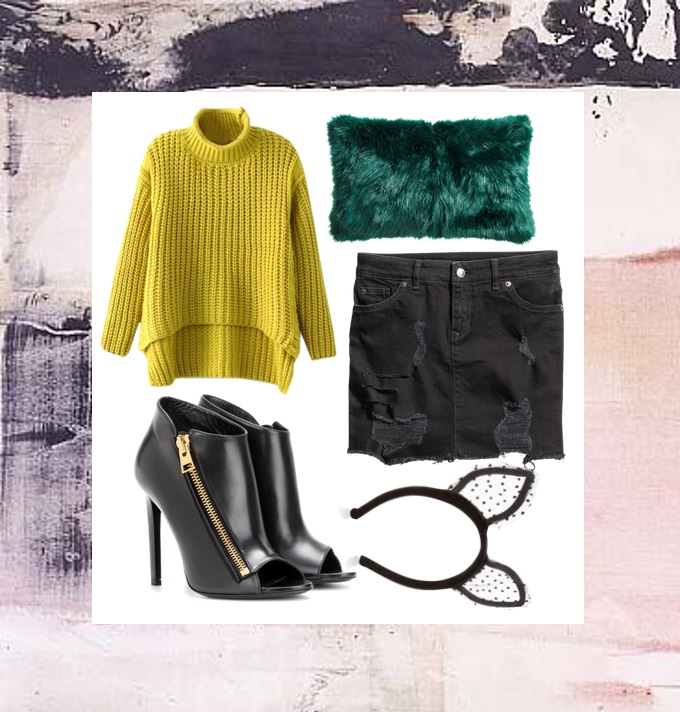 Chicnova Sweater / H&M Fur Clutch / H&M Denim Skirt / Tom Ford Booties / Accessorize Cat Ears
Sweater Weather! September´s LOVE LIST 5 are made to survive the change of season! Snuggle into a warm sweater, enjoy the warm breezy fall sun in a denim skirt & feel free to dance in the falling leaves! Time to add a cozy vibe to your wardrobe, honey!

Yellow Sweater - Fall means a) sipping hot pumpkin spice lattes at Starbucks, b) cozy hugs in bed & c) changing your color code. The last step is my personal favorite as it makes me arrive in autumn at last. Yellow is one of the colors that I love to wear on knits. Big cozy knits are the best sweet hugs you can get (except for those of the one you love!), so definitely get yours now!
Fur Clutch - Biggest trend in autumn / winter? Easy as peasy: (Fake) Fur! Let´s add some more coziness to days out of bed (because you will definitely miss your sheets a lot!) & go for a furry clutch! Combine it with chunky knits, oversized sweaters or leather details! Kachiiing!
Black Denim Skirt - Since 2015 is the year of the 70´s Comeback, the denim skirts are back as well! I like! Between the blue ones that are currently seen on everyone, I prefer the black denim version that looks a little edgy! Add some cute knits (again!), pretty dotted tights or some nice booties - perfect fall look is easy as hell!
Black Leather Booties - Spring is for flats, summer is for sandals, winter is for boots & autumn calls for - huuhh? - Booooties! You can never have enough of those! What about the classy black leather version with a twist? I definitely love the way open toe booties add a clever curve to your fall wardrobe. Genius brave way of styling!
Cat Ears - To be honest, I´m not twelve anymore. But (& that´s important!) I´m a girl! What is better than looking cute sometimes or at least trying?! Cat Ears with dainty lace details are great for Instagram worthy pictures or snaps out of bed! Watcha think? Aren´t they adorable?