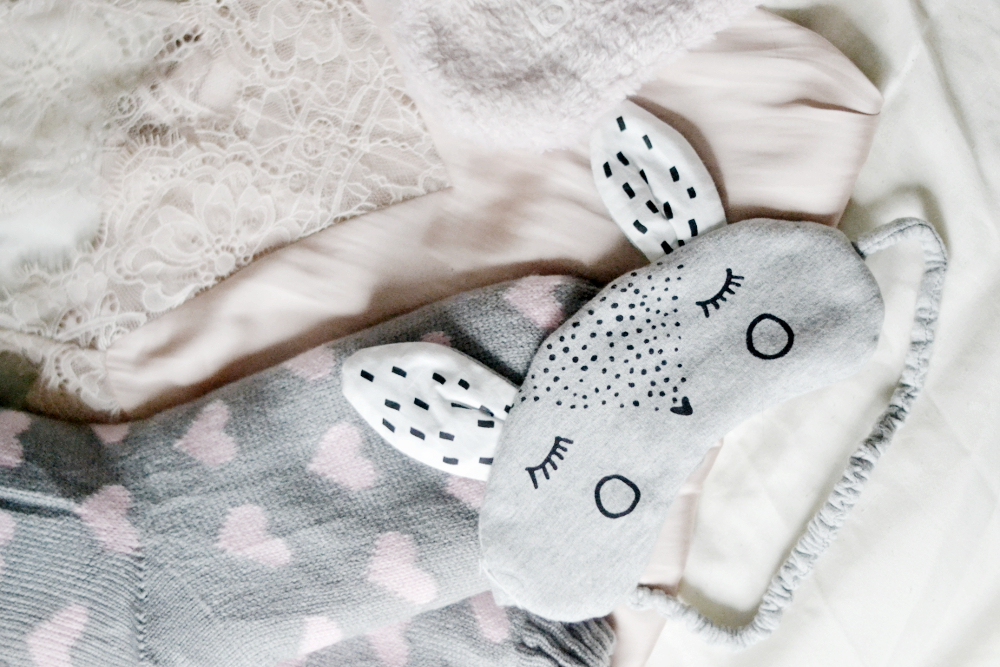 Oysho Sleeping Mask / Oysho Soft Socks / H&M Silky Top
T
alking a lot about my cozy fall mood recently, it´s just intuitive to chat about snug home wear as well! Autumn means falling leaves, hot drinks, pumpkins & grey clouds - the best way to relax on a homelike rainy sunday (which is totally today´s case) is in warm fluffy socks, delicate shirts & some cute pajamas! Just keep the cold away & cuddle with your loved one!
Cozy Mozy Homewear? When I was younger, I focused a lot on trendy statement pieces, fancy clothing & interior items. Shopping home wear, socks or lingerie was never really interesting. The day I finished school, started my grown-up university life, things changed. Quality time is so much better if you feel comfortable & treat yourself with some amazing items to lounge at home! But where to shop for it?... meet my favorite shop!
OYSHO
Oysho
is one of my favorite online shops for home- & loungewear! Find amazing pajamas, cute designs on socks or sleeping masks, delicate underwear or accessoires that you will need (promise!). Searching for a fluffy grey rabbit onezie? A cozy icebear-pyjama or bathrobe with little stars? Find the most amazing pieces on Oysho for the best prices!! SOOO adorable!
Happy sunday (happy online shopping day as well!!) !
----------------------------------------------------------------------------------------------------------------------------------------------------------------
D

a ich zur Zeit schon viel über meine gemütliche Herbststimmung rede, ist es nur intuitiv, dass kuschelige Homewear ebenfalls ein aktuelles Thema ist! Herbst heißt herabfallende Blätter, heiße Getränke, Kürbisse & graue Wolken - die beste Möglichkeit einen grauen Sonntag (der heute eindeutig ist!!) zu überstehen ist, sich in warme Socken zu kuscheln, zarte Seidentops & schöne Pyjamas zu tragen! Die Kälte einfach auszuladen während du mit deinem Liebsten kuschelst!

Cozy Mozy Homewear? Als ich jünger war, habe ich hauptsächlich coole Statementteile gekauft, wollte ständig besondere Dinge besitzen. Homewear oder Lingerie Shopping machte für mich nicht viel Sinn. Seit ich die Schule verlassen & mein fancy Studentenleben begonnen habe, hat sich das geändert. Quality Time ist doch einfach noch viel besser, wenn man sich mit Dingen und Teilen umgibt, die einen glücklich machen! Aber wo kaufe ich diese am besten?... triff meinen Lieblingsshop für Home- und Loungewear!
OYSHO
Oysho ist einer meiner absoluten Favoriten wenn es um Home- und Loungewear geht! Hier findest du süße Pyjamas, tolle Designs auf Socken oder Schlafmasken, Pullover, Onesies, tolle Unterwäsche und Accessoires, die du in jedem Fall brauchst (das verspreche ich!)! Du suchst einen fluffigen Einteiler? Einen gemütlichen Eisbär Pyjama oder einen Bademnantel mit kleinen Sternen? Die detailreichsten Teile findest du für gute Preise bei Oysho!! SOOO schön!
Happy Sunday (und natürlich happy Onlineshopping Day!)!