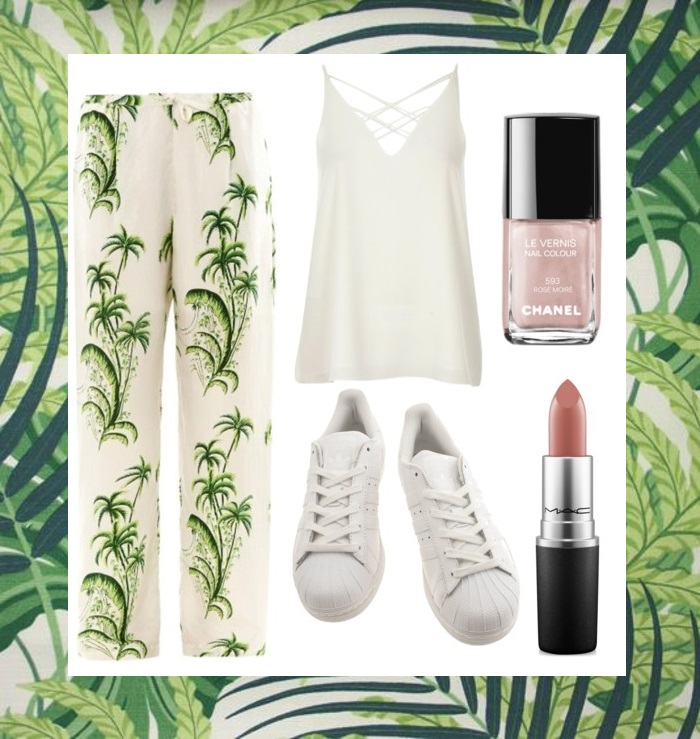 Easton Pearson Pants / River Island Camisole Top / Chanel Le Vernis Nailpolish in "Rose Moré" / Adidas Superstar All White / Mac "Velvet Teddy"
I

m Dezember habe ich die LOVE LIST FIVE ausgesetzt, durch all die Wunschlisten und Gift Guides, die so angefallen sind. Und irgendwie habe ich mir auch nichts gewünscht, das es auf meine Top Fünf geschafft hätte. 2016 geht es "back to the roots" - alte Kategorien sollen wieder gefüllt und gewürdigt werden & die Glitzer-Glamour Zeit hat wieder ein Ende! Denn wenn ich ehrlich bin, dann funktionieren Pailetten und Glitzerkleider doch nur zu Weihnachten und Silvester.
Palmenprints und weiße Stoffe im Januar!? Mag an den milden Temperaturen liegen, vielleicht aber auch an meiner aufkommenden Urlaubsstimmung, denn dieses Jahr soll es mindestens zweimal ins Warme gehen! Und deshalb stocke ich jetzt schonmal meine Sommergarderobe auf & träume mich ein wenig an den Strand! Ganz vorne stehen weiße Sneakers auf meiner Wunschliste! Ich habe in den letzten Monaten nichts anderes getragen & meine billige H&M-Version mittlerweile tot gelaufen. Dieses Jahr müssen die Adidas Superstar in Weiß her (damit meine gelben endlich Geschwister bekommen!) und klassische Stan Smiths. Außerdem brauche ich dringend eine Hose mit Blatt- oder Palmenprint für die Urlaubstage, denn die verbreitet doch gleich Lust auf Sommer, Sonne, Meer, oder?! Beautytechnisch ganz vorne mit dabei: Ein dezenter Nagellack von Chanel & der Mac Velvet Teddy! Beides absolute Klassiker, die es mir schon lange angetan haben! Und beide bereits bestellt & in einem der nächsten Posts zu sehen! Somit ist die Hälfte der Liste auch schon angehakt - happy Sale Shopping!