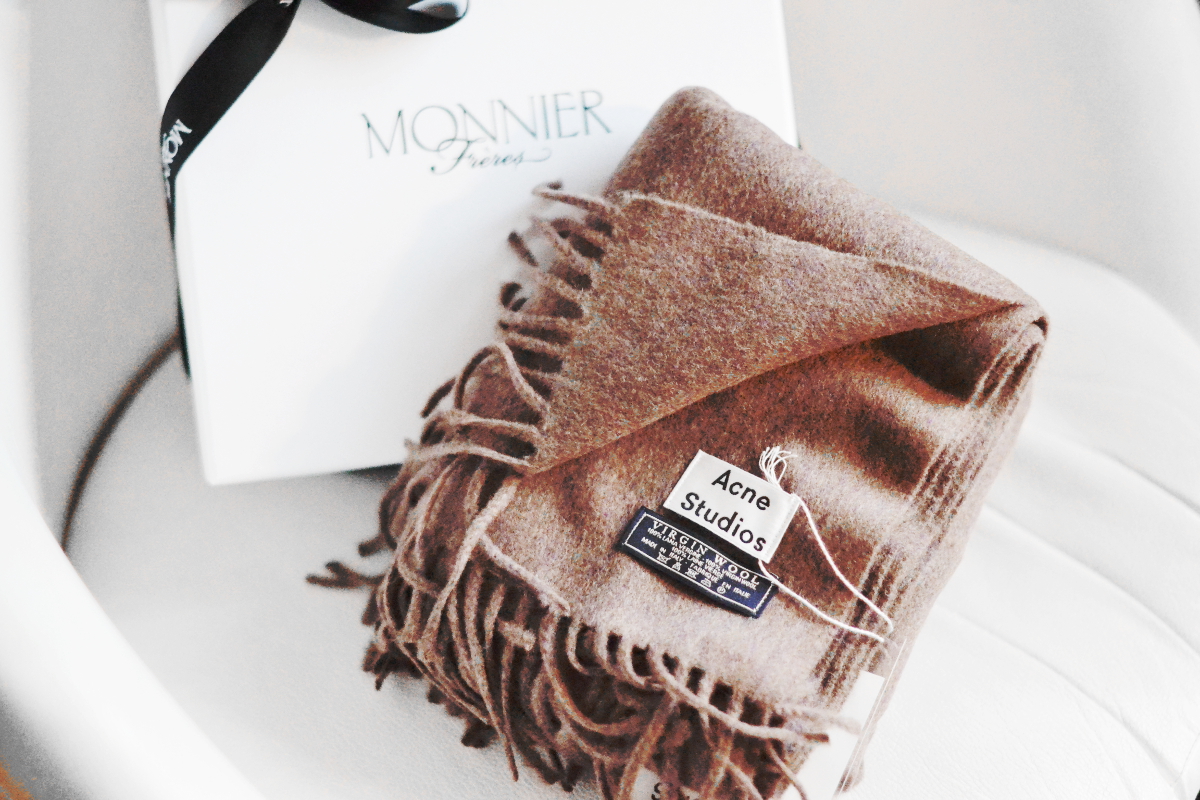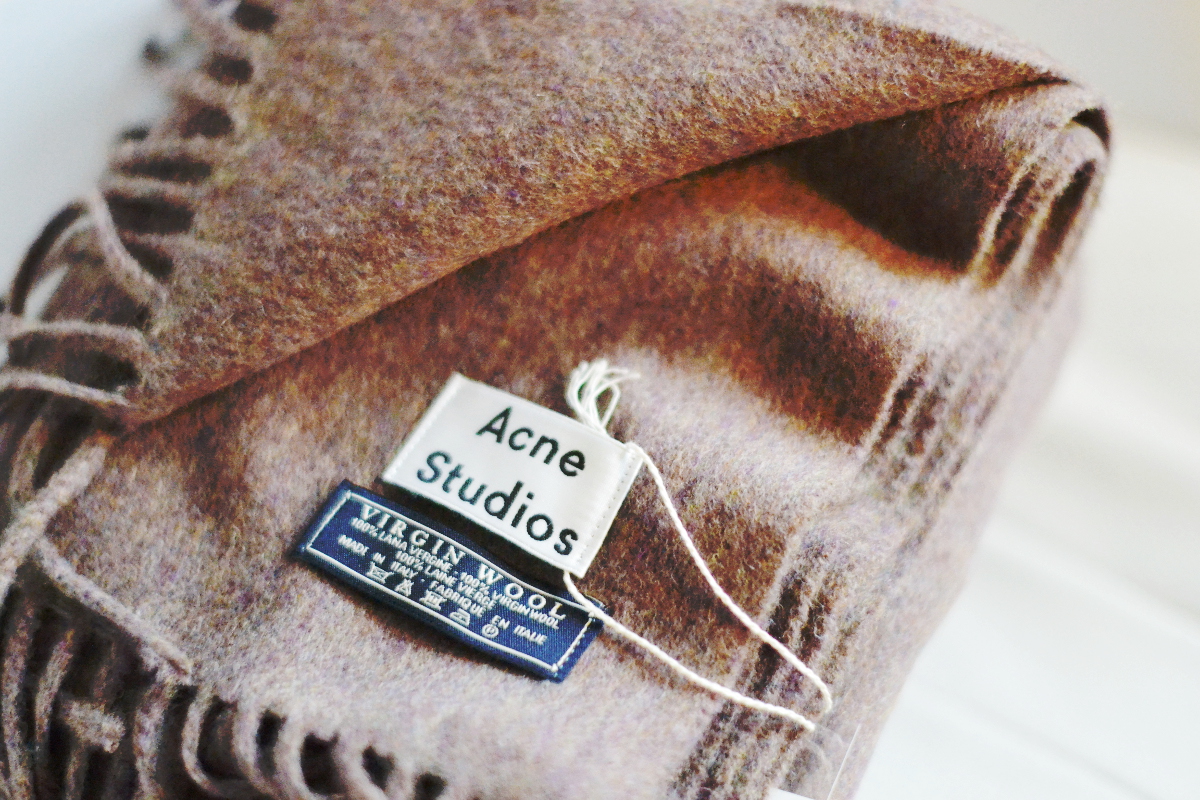 Acne Canada in "multi melange"

M
y newest purchase that you have already seen
in this outfit
, needs another attention in it´s own post because some of you have asked so many questions about it! That´s why I´ve added it to my
Pink Glitter Items
here on LLP.net! I did call the post "the only scarf you wouldn´t ever cut the tag off" because that´s simply what this post is all about! The
Acne Canada
scarf is seen on several fashiongirls in the last time, especially since the days get colder. I will just tell you why in the next lines, since I´ve tested it on my own!
COZY COZY COZY!
I was always in search for any scarf which is warm & cozy without scratching my throat. Since the Canada scarf is made of lambswool, I will never ever freeze again & I totally agree that the scarf is fluffy as hell!!
VARIOUS COLORS!
I think I do not know any other scarves that come in as many various colors as the Canada! I needed to decide between my three favorites:
Caramel Brown
,
Light Grey Melange
& the
Multi Melange
which I picked after all. It also comes in some special colors like a moss green, burgundy & some cool navy! One for everyone´s cup of tea!
BEST QUALITY
I do know that €130 is a lot for any scarf in the world! But as we all know, quality has it´s price! And I can totally agree with the fact that the Canada is amazing! It´s not only warm but really huge (200x70cm), so you are able to wear it as a cape as well - I´ve also used it as a blanket recently. And since it is such a timeless piece, I will wear it for a long time of my life!
Go get yours!!
----------------------------------------------------------------------------------------------------------------------------------------------------------------
----------------------------------------------------------------------------------------------------------------------------------------------------------------
M

eine neueste Errungenschaft habt ihr bereits in diesem Outfit bewundert & ich muss sagen ich bin immernoch total verliebt! Ich habe mir gedacht - weil ihr das Teil sicher noch ganz oft an mir sehen werdet - dass mein Canada Schal von Acne eines eigenen Posts würdig ist, weil einige von euch Fragen dazu hatten. Momentan sieht man ihn wohl an jedem Fashiongirl und obwohl ich solche Trends sonst gekonnt umgehe, kam ich dieses Mal nicht drumherum. Der Canada Schal von Acne ist also hier auf LLP.net ab heute ein Pink Glitter Item! Viele Punkte sprechen nämlich absolut dafür so viel Geld für diesen Schal auszugeben...!
COZY COZY COZY!
Was soll ich sagen?! Ich habe ewig nach einem tollen Schal gesucht, der mich warm hält, aber dabei nicht kratzt. Und das ist gar nicht so einfach, wie es scheint! Weil der Canada aus Lammwolle gefertigt ist, ist er kuschelig weich & unheimlich gemütlich zugleich! Kratzen? Kein bisschen!
SO VIELE FARBEN!
Ich kenne kein anderes Schalmodell, das qualitativ vergleichbar wäre, das es in so vielen tollen Nuancen zu kaufen gibt. Zwischen meinen drei Favoriten - Caramel Brown, Light Grey Melange & Multi Melange - war es schwer zu wählen! Für letzteren habe ich mich dann ganz einfach entschieden, weil er der letzte bei Monnier Fréres war - Konsumopfer...! Ganz toll sind aber auch buntere Töne, wie Moosgrün, Bordeauxrot oder Navy! Ich denke hier ist für jeden etwas dabei!
BESTE QUALITÄT
Es handelt sich schließlich um ein Designerstück, also erwartet man erstmal eine gute Qualität. Wenn ich aber an mein Tshirt von Kenzo denke, das ich vor zwei Jahren einmal gekauft habe, das aus einem Stoff gefertigt war, durch den ich hindurch sehen konnte, dann bin ich erstmal skeptisch. Der Acne Canada Schal verspricht aber auch hier nicht zu viel! Ich finde die Festigkeit des Stoffes einfach toll & gleichzeitig schmiegt er sich ganz leicht um den Hals. Obwohl er so groß und fluffig ist (200x70cm), ist er angenehm zu tragen und engt mich überhaupt nicht ein! Ich kann ihn sowohl als Cape oder auch als Decke umfunktionieren & weil er so zeitlos ist, glaube ich, dass ich ihn auch in vielen Jahren noch tragen kann.
Los, holt euch euren!