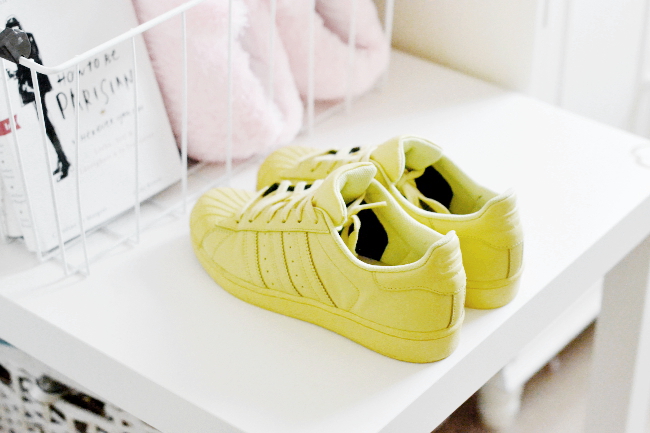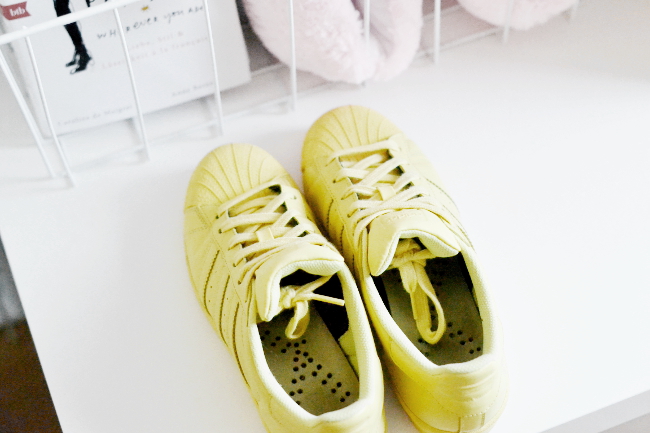 M
ellow Yellow - Not my cup of tea? Wrong, it´s a full cup of hot peppermint tea aka one of the cutest colors ever! When I was on the hunt for some pair of cute sneakers, I thought about a colorful version of the new Adidas Superstars designed by Pharell Williams. Since everyone went for the bright red, the khaki color or the pastel purple shade, I was searching for a pretty alternative to not swim with the whole tide. So I ordered three colors to try & at the end came to the decision to keep the color "sand" which is this amazing light yellow!
Why? Well, mainly intuition. My personal color palette is mainly filled with blacks, whites, greys & some sprinkles of navy, khaki, a deep dark red, some rusty shades & a few colorful hues. But I was always careful when it came to yellow tones. Blondes have to be ultra attentive wearing yellow shades since they can make them quite pale & sick looking. Surprisingly, this sandy shade really flattered me! It´s a little different kind of color code in between my wardrobe & several Instagram accounts, because to be different is always better! That´s why.
----------------------------------------------------------------------------------------------------------------------------------------------------------------
M

ellow Yellow - Not my cup of tea? Falsch, eine volle Tasse heißem Pfefferminztee aka eine der coolsten Farben ever! Als ich auf der Suche nach einem neuen Paar cooler Sneakers war, dachte ich als erstes an eine der tollen neuen Adidas Superstars designed von Pharell Williams. Weil sich aber jeder für das knallige Rot, das softe Khaki oder das Pastelllila entschied, habe ich nach einer schönen Alternativfarbe gesucht, um nicht mit den Strom schwimmen zu müssen. Also habe ich drei Farben zum testen bestellt und mich am Ende für die Nuance "Sand", ein helles Gelb entschieden!
Warum? Also, eigentlich war es Intuition. Meine persönliche Farbpalette besteht hauptsächlich aus schwarz, weiß, Grautönen & einigen Farbtupfern aus Navy, Khaki, einem dunklen Rot, einigen Rostnuancen & vereinzelte bunte Farben. Aber ich war schon immer vorsichtig mit Gelb! Blondinen sollten extra vorsichtig mit Gelbtönen sein, das ist bekannt, denn sie können blass & krank aussehen lassen. Überraschend schmeichelt diese helle Sandfarbe mir ganz gut! Die Farbe ist einfach ein wenig anders, als alles was ich sonst in meinem Kleiderschrank habe & auf verschiedensten Instagram Accounts sehe. Anders ist einfach immer besser! Deshalb.
*Adidas Supercolor Sneakers