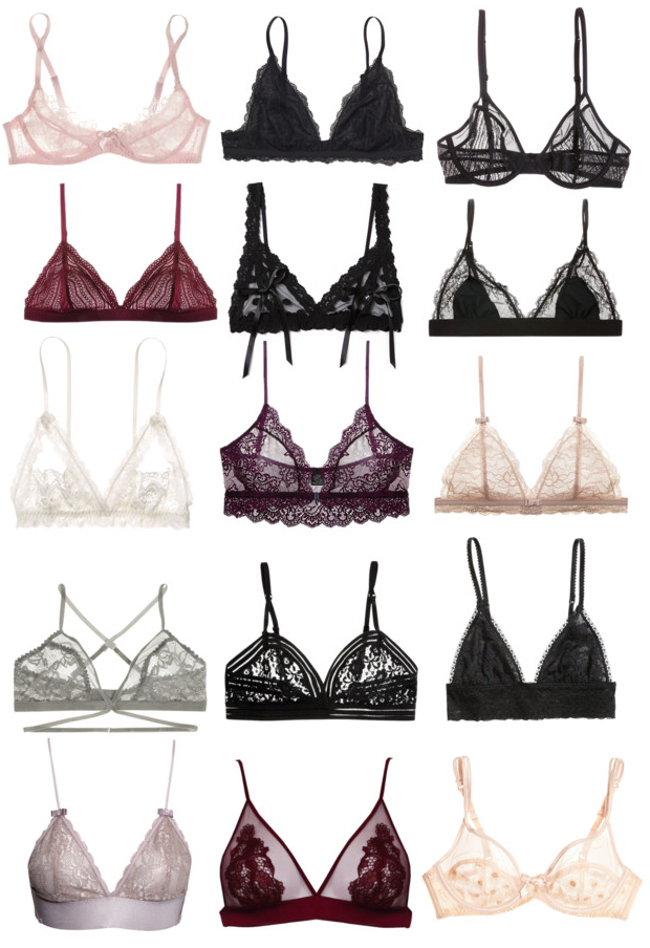 ...in the collage:
Agent Provocateur Nude Bralette ~55€ / Moni Lilita Bra ~21€ / Calvin Klein Black Bralette ~56€ / Cosabella Dolce Soft Bra via theoutnet.com ~46€ / Hanky Panky After Midnight ´Hot Dot´ Bralette ~47€ / Love Stories Initmates Soft Bra ~55€ / Hanky Panky White Bralette ~45€ / Only Hearts So Fine Bralette via journelle.com ~47€ / Journelle Gemma Bralette ~46€ / Lonely Winona Grey Lace Bra via Net-A-Porter.com ~76€ / Lonely Agnes Black Soft Bra via Net-A-Porter.com ~71€ / H&M Bralette ~10€ / Lavender H&M Lace Bra ~18€ / Fleur Of England Ruby Lace Bra ~145€ / Agent Provocateur Casie Nude Bra ~69€
W

hat I´ve learned about Bralettes recently? Well, firstly they´re are the comfiest thing ever. Secondly, they are the sexiest thing ever. And thirdly, investing in more expensive versions is definitely worth it! Why? Well, read the points I´ve already stated! It´s self-explaining.
I was searching for the most delicate profitable pieces for some days now & put together a list for you to shop them yourself! I would definitely recommend models from Agent Provocateur since those are extra delicate & hot. For the lover of pretty lingerie with a modern twist I advise Love Stories Intimates - plus they have the coolest website I´ve ever seen (extra inspiration inclusively!). Also H&M has some amazing affordable pieces (most of mine are from here..) which you can stock up on! Ohh Valentine...
----------------------------------------------------------------------------------------------------------------------------------------------------------------
W

as ich kürzlich über Bralettes gelernt habe? Zuerst einmal sind sie das Bequemste das ich jemals getragen habe. Zweitens sind sie das Heißeste das ich jemals getragen habe. Und drittens lohnt es sich hier defintiv in eine der teurere Versionen zu investieren! Warum? Nun, lest einfach nochmal die ersten beiden Punkte! Erklärt sich alles von selbst.
Ich war einige Tage auf der Suche nach den zartesten lohnendsten Teilen & habe nun einmal eine Liste für euch zusammengestellt! Auf jeden Fall empfehle ich die Modelle von Agent Provocateur, weil sie so filigran & heiß zugleich sind. Der Liebhaberin von hübscher Unterwäsche mit einem modernen Look rate ich zu einem Besuch auf Love Stories Intimates - zusätzlich eine der coolesten Webseiten, die ich jemals gesehen habe (eine Extraportion Inspiration inklusive!). Natürlich hat auch H&M einiges zu bieten, nämlich tolle erschwingliche Modelle (die meisten meiner sind von hier...), mit denen ihr euch unbedingt eindecken solltet! Ohh Valentin...