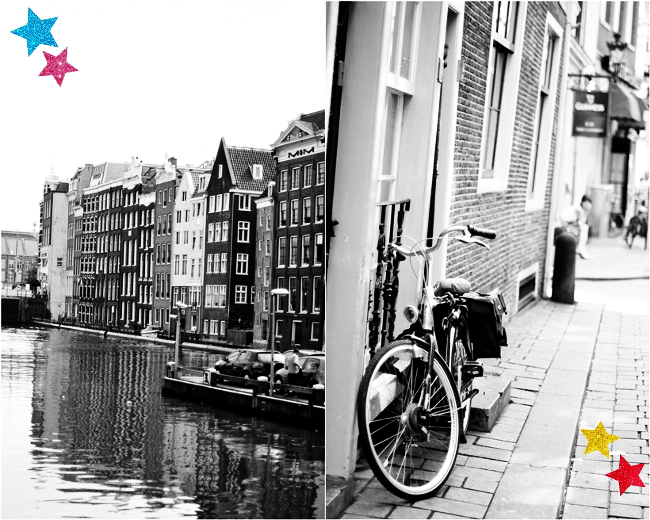 T

hinking of City Trips lately, Amsterdam came back into my mind. When I visited Amsterdam for the first time, two years ago, I was quite disappointed. Side note: Don´t get me wrong, I love the city but I was totally not prepared & therefore did not really understand the city´s spirit. If you ask people where to go next, which city to visit, most of them will answer New York City, Paris, Stockholm or Prague. But Amsterdam definitely is one of their favorites! But why exactly?
One of the reasons will mainly be the great architecture that is totally stunning. Besides big buildings & fascinating modern structures in world´s metropoles, Amsterdam is prepared to get you under a different kind of spell! The houses are way too thin, too high but they totally look like pretty dolls houses. That´s totally my kind of environment! But water is important as well. Did you know that Amsterdam has even more canals than Venice does? It´s true & what´s most exciting here, is the fact that you´ll have to pass several bridges to go where you want to go. This fact makes every visit an incredibly amazing experience!
If you are a sporty person, Amsterdam will be your city! I have never seen more bike riders, more joggers in the morning! It seems as if people in Amsterdam are more relaxed, fitter & to be honest, they seem to care a lot more for environment. That´s why most of the Amsterdammers own a bike & use it to go wherever they want to! Chapeau! That´s quite modern futuristic thinking, isn´t it?! (Well, we just ignore the fact that the Netherlands have a serious lack of hills & mountains that you don´t have to climb with your bikes...).
But for girls like us, Amsterdam is prepared to fascinate even more! Three words: Second Hand Shops! The inner city is full of amazing shops around the "Oude Kerke" (old church!) but vintage shops are the better option when in Amsterdam! Find "Episode" in the Nieuwe Spiegelstraat 61 or "Zipper" in the Nieuwe Hoogstraat 10. Find a lot of basars in the street that reflect the spirit of the city! Historical markets like the "Waterlooplein" or the "Dappermarkt" will make you enjoy the flair even better! Art, Fashion, Lifestyle & Love! Defintely pink-glitter-worthy!!