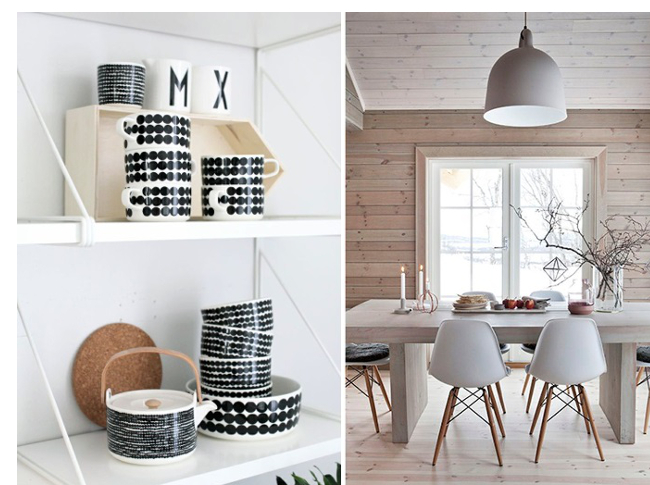 I

left my heart in Sweden six years ago. It´s been a long time now & Ikea is definitely no alternative. Do you love white scandinavian interior as much as I do? Congratulations, you are absolutely right reading this blogpost!
White, clean furniture, straight structures, light wooden accents, simple details and black and white coziness - that´s scandinavian interior. I´m in love with this simple way of living, the lovely details without any need of trash. Don´t get me wrong, I really enjoy my small amount of trash. But in structures like these, working and living in a relaxed way is so much easier. My office space is clean like this, to keep a concentrated mind without thinking about colorful minor facts. Sometimes an inspired mind needs space to grow. Just as a blank white paper that needs to be filled. But you have to start at the white page. That´s why I always try to invest in simple classic interior pieces, clever decoration and clean furniture. Let your dreams grow!
---------------------------------------------------------------------------------------------------------------------------------------------------------------
I

ch habe mein Herz vor sechs Jahren an Schweden verloren. Das ist nun schon einige Zeit her & Ikea dient mir dabei leider absolut nicht als Alternative. Liebst du skandinavischen Einrichtungsstil genauso sehr wie ich? Glückwunsch, du bist vollkommen richtig in diesem Blogpost!
Weiß, cleane Einrichtung, klare Strukturen, helle hölzerne Akzente, einfache Details und schwarz-weiße Gemütlichkeit. Ich liebe diese einfache Art zu Wohnen, die schönen Details, die keinen Kitsch benötigen. Versteht mich da nicht falsch. Ich liebe meine kleine Ansammlung von Kitsch, in gewissem Maße. Aber Strukturen wie diese machen das Arbeiten und Leben auf eine relaxte Art und Weise viel einfacher. Mein Home Office ist so eingerichtet, um einen klaren Kopf zu behalten, ohne an bunte Nebensachen denken zu müssen. Manchmal braucht Inspiration Platz zum Wachsen. Wie ein weißes Blatt Papier das es zu füllen gilt. Aber beginnen musst du auf der weißen Seite. Genau das ist der Grund warum ich gerne in simple Klassiker investiere, clevere Dekoration kaufe und eine cleane Einrichtung mag. Lasse deine Träume wachsen!
*picture credits: Pinterest, Ikea.de