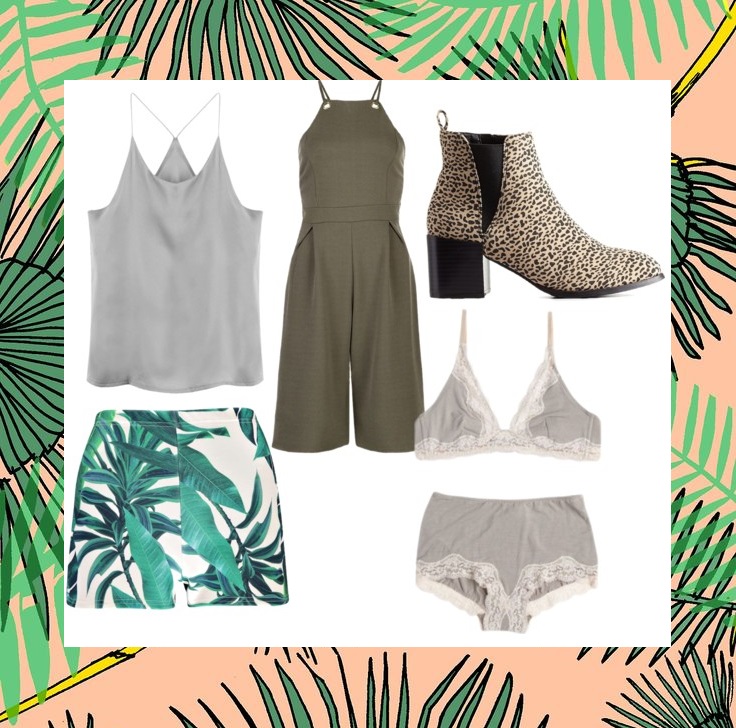 Yoins Grey Silk Top / Boohoo Plam Leave Shorts / New Look Culotte Jumpsuit / Charlotte Russe Leopard Chelsea Boots / Oysho Lingerie Set
T

ravel obsessers, ladies in cute bikinis & ice cream sippers, these LOVE LIST 5 are for you! Five amazing items to shop right into your basket which will help you to pack for recent vacations, city trips or to stock up your wardrobe! Ohhh long summer, please stay forever!!!
Silky Top - Every girl needs a delicate silky top in a natural shade! It´s flattering for everyone, leads to hundreds of great combinations & is amazingly comfortable! Plus: It looks extra elegant!
Palm Leave Shorts - Palm Leave Prints are a summer´s must have! Get yourself some great shorts in amazing green hues & make a summery fashion statement. Aaaand it´s ultra easy to style, just add some cute sandals, a basic tee & your biggest smile! Grin girl!
Culotte Jumpsuit - Two trends in one is like a pizza with fries! Amazing! Culottes are the biggest summer trend that will reach into autumn as well. Wide leg, above ankle length & a nice green shade paired with the comfiest jumpsuit fabric! Love, oh love!
Leopard Chelsea Boots - Pairing pretty little booties with light summer dresses is always a favorite! I really like style breaks like these, especially when they come leopard printed! Add those cute booties to your summer wardrobe & transform them easily into fall aswell!
Grey Lingerie Set - I´m a lingerie lover & I´m getting weak for greys! Add some comfort and delicate lace & you will find this great set containing a bra and some panties! I love the light grey shade since you can combine it with almost everything - the best to wear under summer dresses!