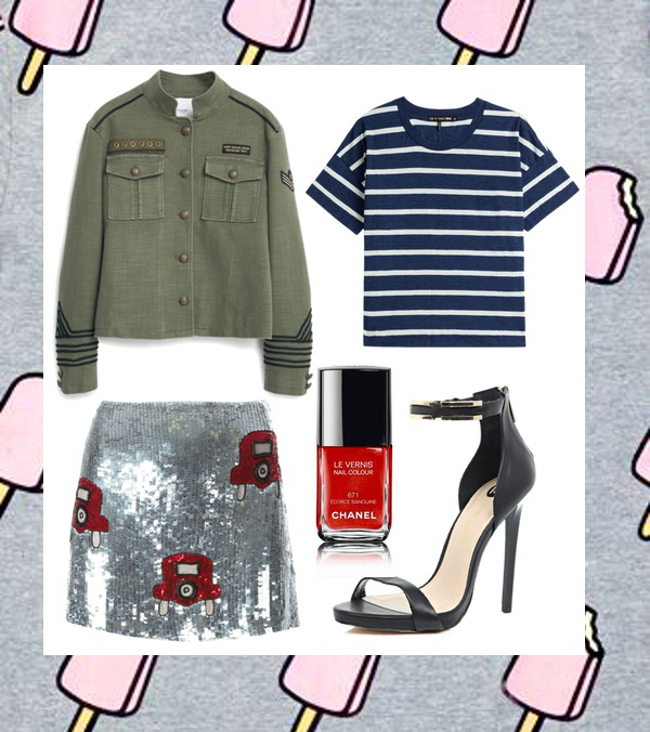 Mango Military Jacket / Rag & Bone Striped Tee / Au Jour Le Jour Sequined Skirt / Chanel Nailpolish / River Island Black Sandals
T
ime to go on a City Trip to Paris! This month´s LOVE LIST 5 contain amazing pieces to wear during the day & transform them into the night! Perfect for city trips & breezy summer days! Pack your bags, up, up & away...

Military Jacket - Nothing is better than a jacket that makes your looks even more amazing as they already look! A khaki green military jacket is perfect for girls like us who start shivering in the evening hours, even in the summer. Paired with our most loved summer dresses, cool basic or a simple pair of blue jeans, you are able to rock the trip! Yes, sir!
Striped Tee - You are never able to have enough striped shirts! The classic tee is perfect to pack for day trips, because you can´t combine any other piece as easy as this shirt! Striped tees for president!!
Fun Sequined Skirt - I love myself some glitter! Always, everywhere! Sequined skirts paired with a basic shirt add some extra sparkle to your life! Your wardrobe will thank you! Easy Peasy side effect: You don´t need to pack exciting dresses for party nights - just pair this skirt with some wardrobe basics & shine bright like a diamond...
Chanel Nailpolish - Cliché! Need another Chanel pal for my nails because it´s time! City Trips = no time for any manicure, which means pack a little helper! Red is always a good idea because it´s versatile & classy! Madame, you are so ready for Paris!
Pair of Black Sandals - Anything to add? No way! Black Sandals are a classic center piece of clothing to definitely wear all day long! They are not only comfortable to walk in but also look amazing & add some glam effect to your outfits! It´s the striped tee in a shoe, if you ask me...