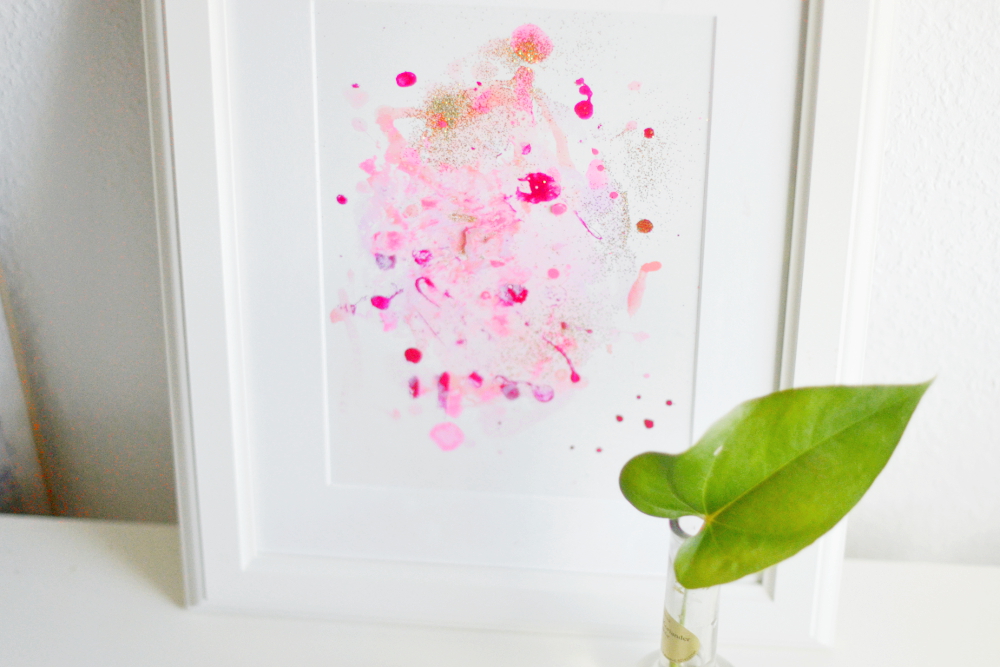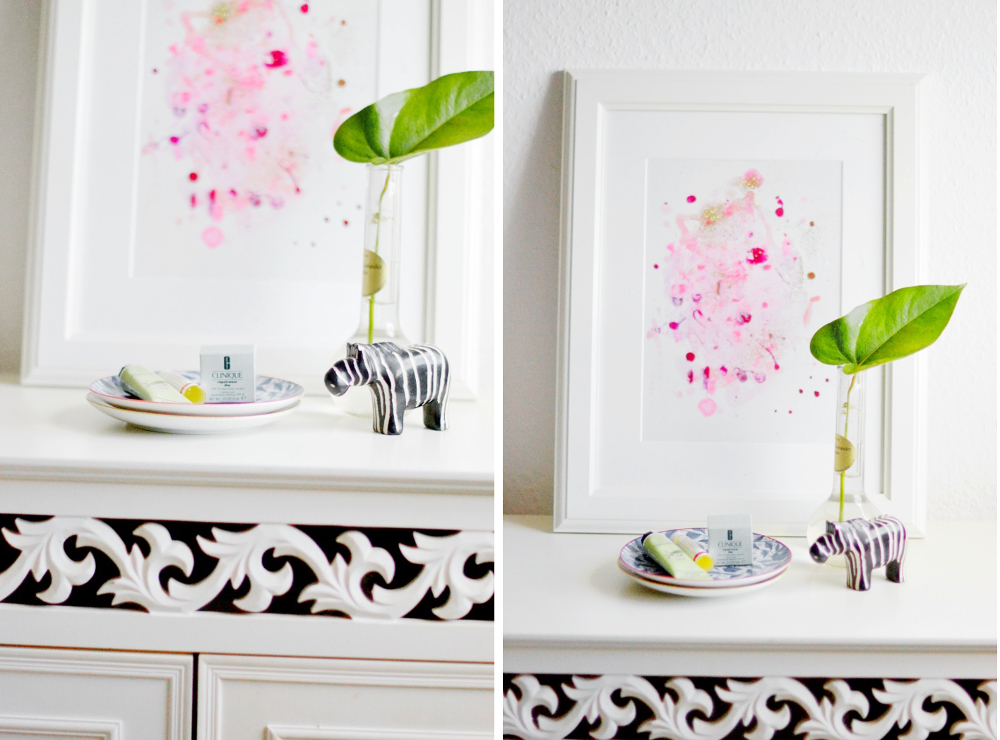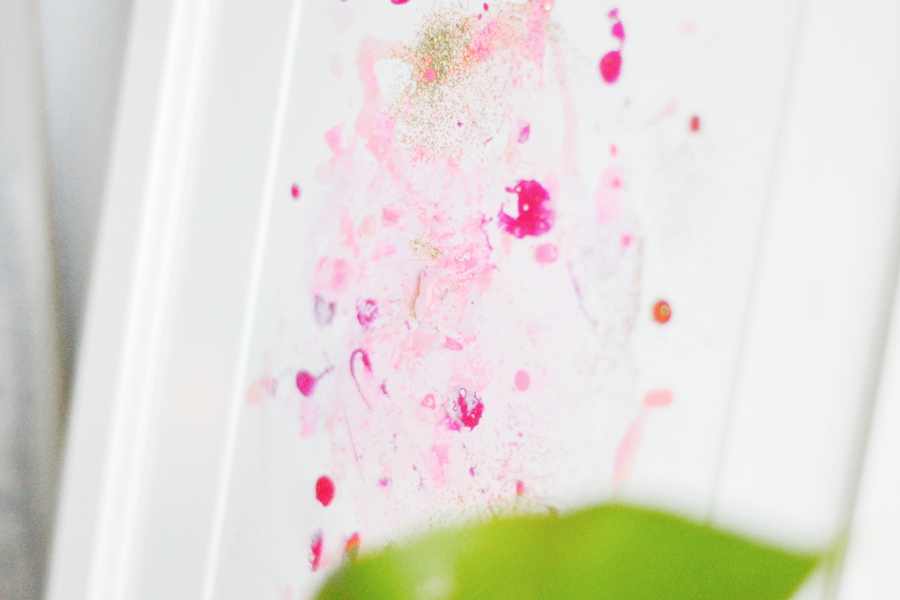 N

eed some color in your life? Since my home office will be decorated in black, white & grey mainly, I want my bedroom to be a little more cozy between the clean white shades. I actually created this DIY in December 2014 because I wanted to make my own personalized nice present for one of my friends. Apparently it happened that I never showed you anything of this easy peasy ideas that you can do at home! So, here we go!
What you need to create this artwork is a little unspecific - I wanted to build little splatters & dots on the white ground (which is actually thick paper!), so I came up with the idea to use nailpolish. I have had some old sticky polishes that I wanted to depollute anyway. I´ve used a light pink shade first & made some bigger splashes to bray those in the middle. Next I´ve used darker pink & red shades to sprinkle some more color on the ground. A lot of fun, I swear! To create a special girly effect, I spread some golden glitter all over the paper that dried with the polish! After all I put it into a white Ikea frame & now it´s gracing my dresser in the bedroom!
What do you think? Easy, huh?!
- CHECKLIST: you´ll need - a white paper carton, some nailpolishes of your choice, golden glitter, a frame & a good creative mood!
----------------------------------------------------------------------------------------------------------------------------------------------------------------
B

rauchst du ein bisschen Farbe in deinem Leben? Seit ich entschieden habe mein Home Office hauptsächlich in Schwarz, Weiß & Grau einzurichten, möchte ich mein Schlafzimmer etwas gemütlicher halten, zwischen all den cleanen weißen Strukturen. Eigentlich habe ich dieses DIY schon letzten Dezember gemacht, als ich ein tolles Weihnachtsgeschenk für eine meiner Freundinnen machen wollte. Und dann ist es einfach passiert, dass ich es nie auf dem Blog gezeigt habe, dabei kannst du es zuhause so einfach nachmachen! Also, legen wir los!
Was du hauptsächlich dazu brauchst, ist etwas ungewöhnlich - Ich wollte unbedingt kleine Spritzer & Punkte auf dem weißen Grund (der übrigens fester Pappkarton ist!), kreieren und kam zu der Idee einfach Nagellack dafür zu nutzen. Ich hatte noch einige Fläschchen klebrig alten Lack übrig, den ich sowieso entsorgen wollte & habe diesen einfach benutzt. Als erstes habe ich einen hellen Rosaton in die Mitte gegeben, um diesen dann etwas zu verteilen. Danach habe ich dunklere Pink- und Rottöne verwendet, um die kleinen Spritzer zu erreichen. Ziemlich spaßig, das sage ich dir! Um einen schönen Spezialeffekt und das besondere Etwas ins Bild zu bringen, habe ich dann ganz random goldenen Glitzer auf dem Karton verteilt, der super mit dem Lack eingetrocknet ist! Als Finish habe ich das Bild dann in einen weißen Ikea Rahmen gesetzt & nun schmückt das tolle Stück meine Kommode im Schlafzimmer!
Was meinst du? Einfach, was?!
- CHECKLIST: du brauchst - ein Blatt weißen Pappkarton, Nagellackfarben deiner Wahl, goldenen Glitter, einen tollen Rahmen & jede Menge gute kreative Laune!