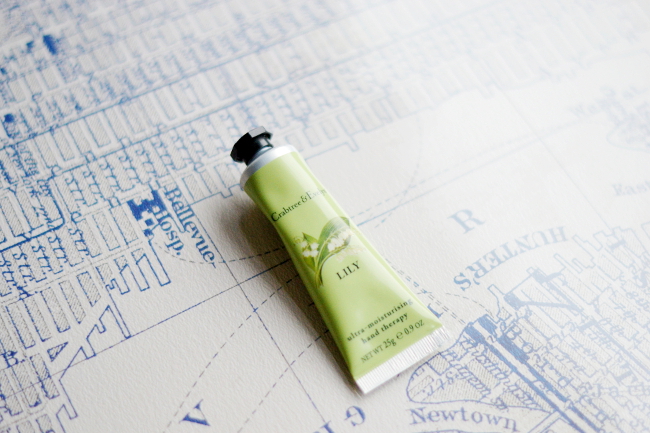 Crabtree & Evelyn Handcream
F

ound one tiny little answer to my dry hands some weeks ago when I accidentally tripped over the lily handcream by Crabtree & Evelyn. - Totally went like a bull at a gate in today´s post but doesn´t matter, right? Because who needs a long introduction when the product is too great to not mention it directly! - Some hunts totally take time when it comes to skin care. What makes finding the perfect handcream so ultra hard is that I normally either hate the texture (too soft, too flowing, too sticky is never good!!!) or the smell of it! Since I am not the biggest fan of sweet scents & I totally reject chemical smells, it´s hard to really assure me with a handcream. What about you, pretty little thing?
Crabtree & Evelyn´s ultra-moisturising hand therapy serum has not even the cutest bottle I´ve ever seen but it smells absolutely wonderful! The texture is on point, the scent of lily is pretty & discreet! So, there is not a point not to love it! Hundreds of reasons to find it lying on my office desk next to the coffee cup (Essentials!!). Watch me, the weirdo, sniffing my hands all day long!
----------------------------------------------------------------------------------------------------------------------------------------------------------------
Ich habe die süße Antwort auf mein Problem mit trockenen Händen vor ein paar Wochen gefunden, als ich eigentlich versehntlich auf die Handcreme von Crabtree & Evelyn stieß. - Im heutigen Post falle ich einmal mit der Tür ins Haus, aber das macht dir nichts oder? Denn wer braucht schon lange Einleitungen, wenn das Produkt einfach zu gut ist um es unerwähnt zu lassen! - Mit so mancher Suche nach dem perfekten Produkt lasse ich mir gerne Zeit. Was es aber so schwer macht die richtige Handcreme zu finden ist die Tatsache, dass ich entweder die Textur (zu weich, zu flüssig, zu klebrig ist niemals gut!!) oder den Duft nicht mag! Weil ich kein großer Fan von zu süßen oder zu künstlichen Düften bin, ist es wirklich schwer mich mit einer Handcreme zu überzeugen. Geht´s dir hübschem Ding da genauso?
Crabtree & Evelyn´s Ultra-Mositurising Hand Therapy Serum hat nicht nur die süßeste Flasche die ich jemals gesehen habe, sondern riecht auch absolut himmlisch! Die Textur ist auf den Punkt getroffen und der Duft nach Maiglöckchen ist sehr natürlich & dezent! Hier gibt es also keinen Punkt der dagegen spricht! Hunderte von Gründen aber, um dieses Produkt als Dauergast auf meinem Schreibtisch, direkt neben der Kaffeetasse zu begrüßen (Essentials!!). Du kannst mir, der Verrückten, also beim schnüffeln meiner Hände zuschauen!
Want soft skin?