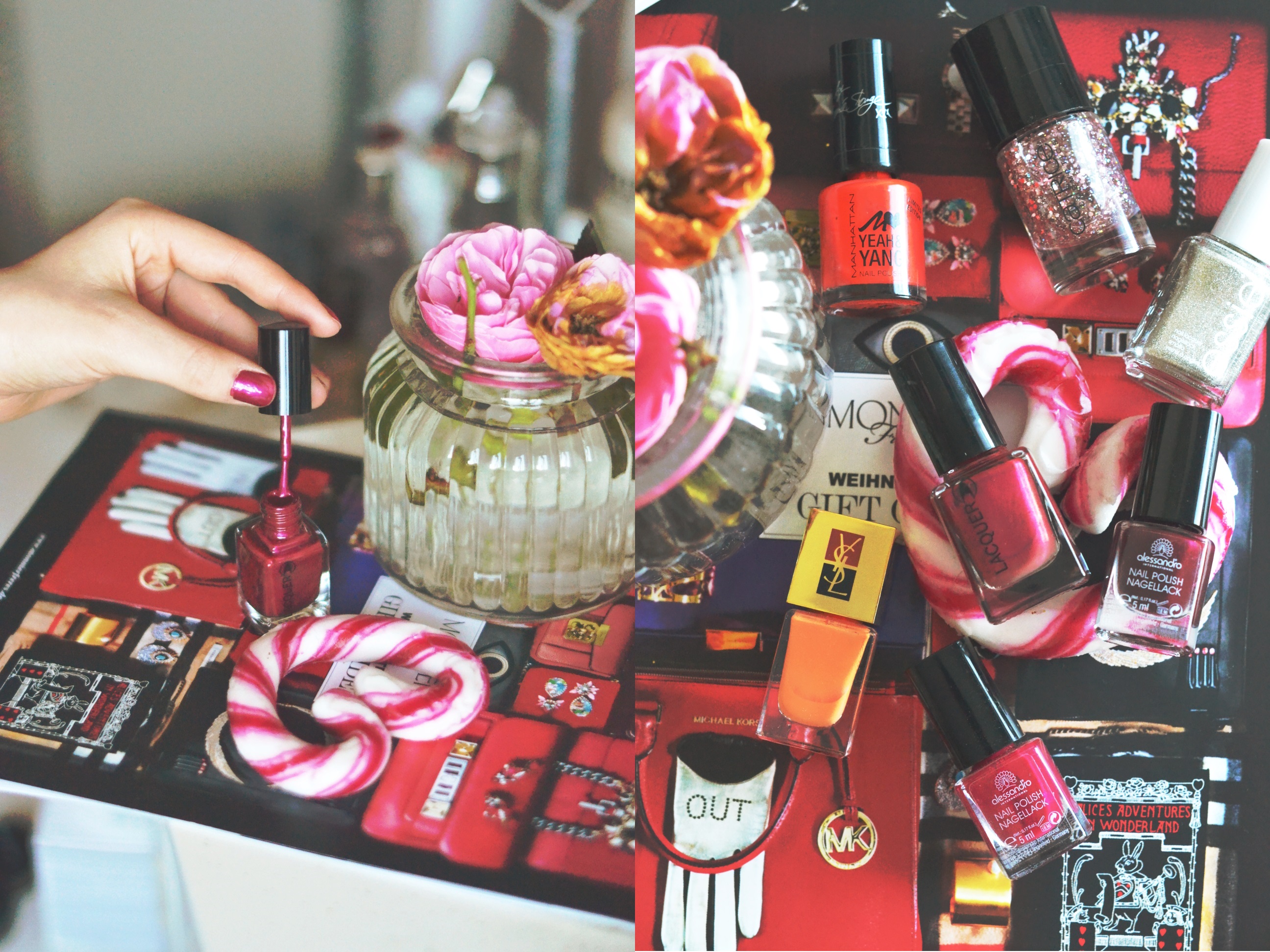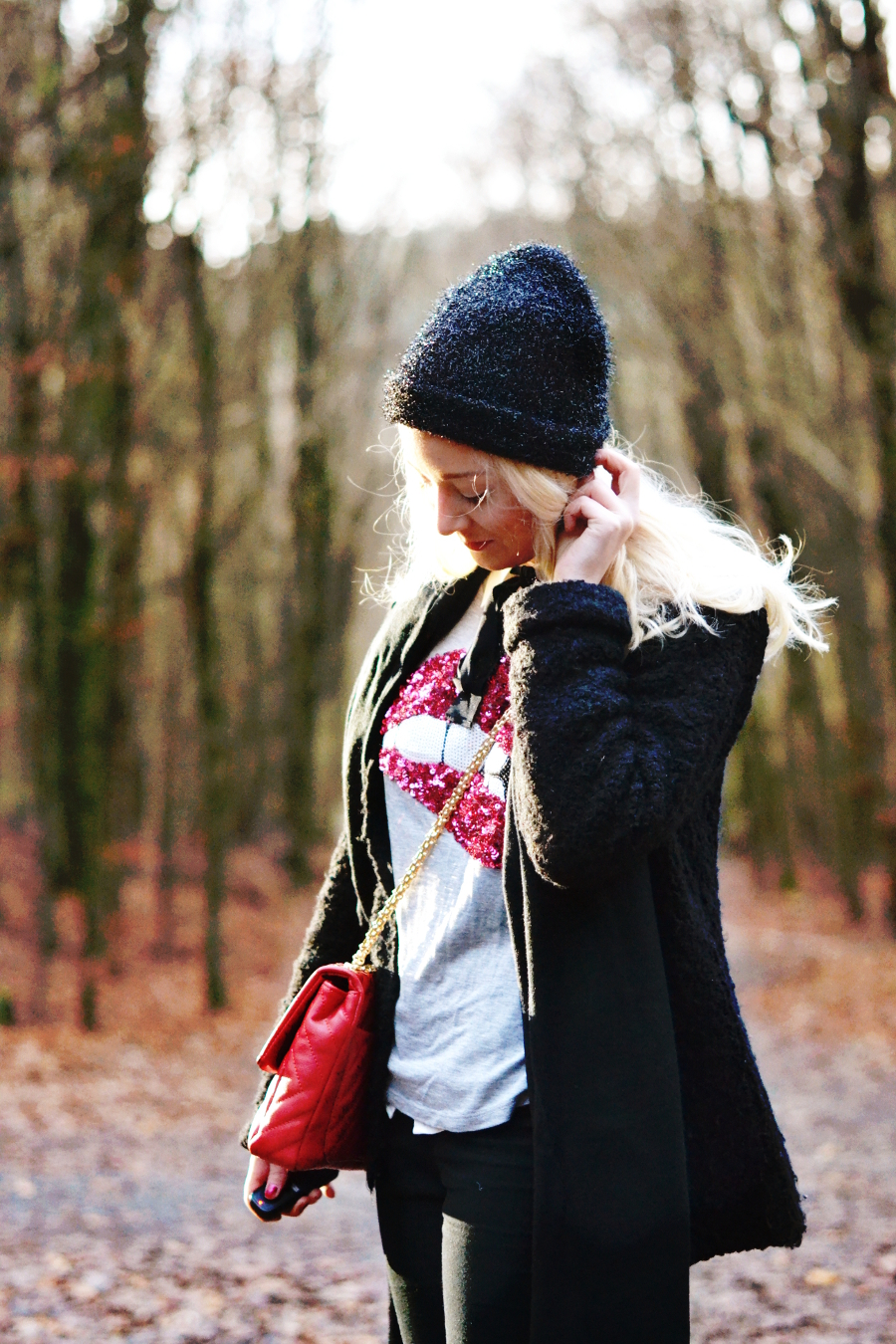 Buffalo Bag / H&M Sparkly Hat / Forever 21 Furry Coat / H&M Shirt / Catrice Dark Red Nailpolish
O

n the sparkle, ready, set gooo! Christmas Season is right around the corner which means christmas obsessers like us have to prepare! Put on your reindeer antlers, grace yourself with an extra deal of cinnamon cookies, play Michael Bublé´s Christmas Album & light on your Yankee Candles - It´s time!
HOW TO DRESS FOR CHRISTMAS PREPARING DAYS
Let the christmas spirit come in! The easiest way: Wear glitter all over! Combine sequined pieces with easy peasy casual clothing items & typical christmas colors such as tree green, globe red, crown gold or snowflake silver! The best way to make looks like these suitable for every day? Add black or grey & a lot of fluffy items to layer. Always pick items with a touch of festivity!
THE ACCESSOIRE TO TRUST IN
Thinking about the christmas spirit is thinking of a bright festive red! To use this color as flirty detail in your outfits, simply trust in a bright red bag to combine with everything this season! It´s beginning to look a lot like christmas!!
ALL I WANT FOR CHRISTMAS IS YOU
On my christmas wishlist: always a special festive nailpolish that makes the spirit linger for a while. Since it will be a present or a treat for me & myself, I often spoil myself with some more exclusive brands such as Chanel, YSL or Dior! Ladies, it´s christmas season! Pick a shimmery red, a dark wine color, golden shades or a deep New Year´s Eve blue. Whatever you´ll decide for, it will be perfect!
----------------------------------------------------------------------------------------------------------------------------------------------------------------
A

uf den Glitzer, fertig, looos! Weihnachten ist nur noch einen Blinzler weit entfernt & Weihnachtsbewunderer wie wir sollten sich so langsam vorbereiten! Setz´ dein Rentiergweih auf, gönn´ dir eine Extraportion Zimtsterne, lege Michael Bublés Weihnachtsalbum auf und zünde die Yankee Candles an! - Es ist Zeit!
WIE KLEIDE ICH MICH IN DER VORBEREITUNGSZEIT?
Lass´ den Weihnachtsgeist herein! Der einfachste Weg: Tragt Glitzer überall! Kombiniere pailettenverzierte Teile mit easy peasy Alltagsstücken & typische Weihnachtsfarben, wie Baumgrün, Kugelrot, Kornengold oder Schneeflockensilber! Der beste Weg um solche Looks alltagstauglich zu machen? Ergänzt Schwarz oder Grau und wähle Lagenlooks mit flauschigen Teilen. Such´ aber unbedingt immer Teile mit einem gewissen festlichen Touch!
DAS ACCESSOIRE DEINES VERTRAUENS
Gedanken über Weihnachten sind Gedanken an knalliges Rot! Um diese Farbe geschickt zum Fest einsetzen zu können, empfehle ich dir, in eine Tasche der Farbe zu investieren, die du dann ganz einfach zu allen festlichen Looks kombinieren kannst! It´s beginning to look a lot like christmas!
ALL I WANT FOR CHRISTMAS IS YOU
Auf meinem Wunschzettel: Jedes Jahr ein toller Nagellack, der den Weihnachtsgeist noch etwas länger präsent macht. Weil es meist ein Geschenk von mir an mich selbst ist, verwöhne ich mich gerne mit einem Teil exklusiverer Marken, wie Chanel, Dior oder YSL! Ladies, es ist schließlich Weihnachten! Wählt ein schimmerndes Rot, eine Weinnuance, goldene Farbtöne oder ein Mitternachtsblau für den Silvesterabend. Was auch immer du wählst, es wird perfekt sein!